Product descriptions are at the core of eCommerce business. It's what you tell about your products to the customers and how you convince them to make purchases.
A well-written description will not just provide all the quintessential information about the products but will also be effective for triggering organic search rankings and increasing sales.
As we did a little more in-depth research on this, we found that nearly 90%of consumers consider product description content extremely vital when making their decision to purchase. Therefore, it is easy to say that product description writing can make or break your eCommerce sales!
If you're still unsure of the relevance of product descriptions in eCommerce selling, go through this blog. Here, we have talked about how important they are and what impact they make on conversions and sales with examples. And, consequently, we discussed all the vital tips on how to write product descriptions that sell terrifically. If you are someone looking forward to selling things online, this blog post is a must-read. Let's dive in!
[ez-toc]
What is a Product Description?
A product description implies content that explains well the product you have put for sale in your eCommerce store.
It has to be detailed and to the point but can be witty at the same time. In other words, it should be able to grab all the attention of online shoppers when they come across it and consider it worthy to buy.
You can also tell a brief story about your brand or the product in the description. In short, do whatever it takes to make the product relatable to your target buyers and increase the chances to sell.
Knowing how to write the best product descriptions is one of the first things to do if you are planning to make your eCommerce business successful in today's competitive market.
Product descriptions give you the chance to present your brand in the best light while creating great potential for sale.
What do Product Descriptions do in eCommerce?
Product descriptions are integral for selling your products online!
You must not forget that customers can neither touch nor feel your products just like they do in a physical storefront.
So, how are they going to know about the features, dimensions, specialty, and real worth of your products by seeing them on a virtual screen?
This fact makes product descriptions so pivotal in eCommerce! They enhance customer experiences by providing essential information that helps in purchase decisions. Besides that, they make your online store look professional and ensure every product listing converts visitors into customers.
When you know how to write product descriptions that stay true to your brand, it makes your online store legitimate and builds trust in customers. Trust is the main ingredient for instituting your success in the eCommerce world. You need to win the trust of customers to stand out in the competition and authentic product descriptions help in that.
In a nutshell, product descriptions take the visitors coming to your online store through the conversion funnel. Well-crafted and creative descriptions have the power to make your product pages incredibly compelling and will lead to the conversion of casual shoppers to your customers.
Significance of Writing Compelling Product Descriptions
Product descriptions are indeed vivid details of products that tell customers what to expect from their use and whether they're worth buying.
But, that's not all! They help beyond just describing your products.  A well-written and factual description contributes in the following ways.
1. Makes the product relatable to the customers:
When you provide a description presenting all the features of the product and what purposes it serves, the visitors to your store will instantly think "This is something I was looking for!"
2. Convinces the customers:
When you write a compelling description citing the evident reasons or customer-centric facts for buying the product, the visitors will be easily persuaded to purchase it.
3. Drives organic searches:
Product descriptions also include relevant keywords and key phrases that anyone types in the search box in Google when they are looking for such products. If your product descriptions use keywords and phrases naturally but not stuffing them, Google will automatically show your product page at the top of the search results. Because that show its algorithm works!
In eCommerce, product descriptions work as the in-store retail executives. They interact with the customers, give information about the product, and help in their decision-making. Just like them, the descriptions are the point of interaction with your visitors and can make or break conversions. If they are compelling enough, they will grab more attention from your visitors and lead to conversions.
To help you better understand the importance of clear-cut and catchy product descriptions, here's an example of how to write product descriptions that sell from our store.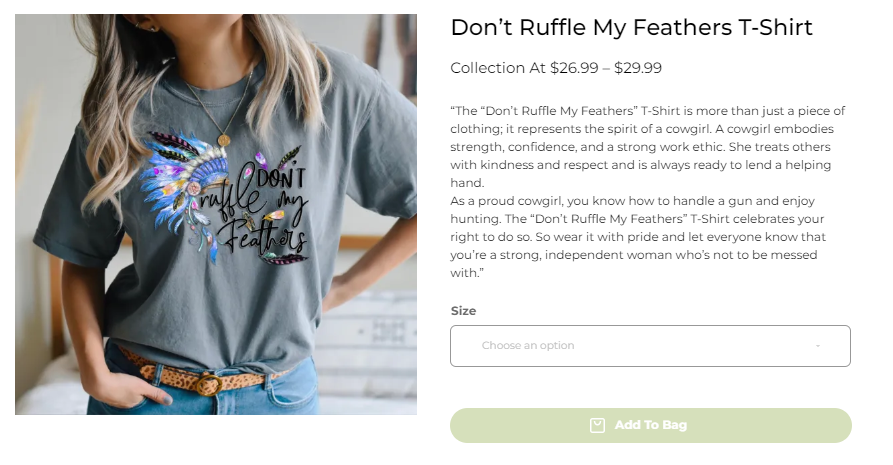 This description starts as "The 'Don't Ruffle My Feathers' T-Shirt is more than just a piece of clothing; it represents the spirit of a cowgirl". This line where it mentions the spirit of a cowgirl is an instant attention grabber! Every independent teenage girl or young woman wants to carry the confidence of a cowgirl who is capable of handling all the responsibilities of a farm with strength and liveliness. A strong-spirited cowgirl is also full of kindness and compassion and treats others with respect. When a target customer, i.e. young woman comes across such a description, she would soon start thinking to buy it. Wearing it will let her be in her skin while being stylish i.e. tough, confident, reliable, and not someone to easily muddle with.
Writing such a creative and expressive product description was an instant hit on the emotions or psychology of young women and made the t-shirt one of the top-selling products in our store.
Well, we guess now you know how to write good product descriptions that sell! While this was just one example of a product description, you can go through many more like that with compelling and creative descriptions that helped us boost our conversions and sales. Valentine Tim Embroidered Cropped Hoodie, Life Is Better T-Shirt, Grateful Sweatshirt, and Grow in His Grace are some of the great product descriptions our sellers wrote for their products!
11 Tips On How To Write Product Descriptions That Assure Conversions & Sales
The product description is the most vital factor influencing the decision of online shoppers after the price and estimated delivery time. But, how to write the perfect product descriptions that reveal the authenticity of the products, draw the attention of visitors, and are also convincing enough?
Well, to write product descriptions that sell well is not plain sailing at all!
Apart from making the content unique or creative, there are many things to take account of. If you are an eCommerce merchant and want to know how to write great product descriptions, the following section will guide you. Here, we discussed 11 effective ways of writing product descriptions that sell and can help online stores to achieve heights of success. Take a read.
1. Figure out your target audience
One of the best things about selling your products online is that you can target customers globally and gain a vast customer base. However, that doesn't mean that everyone is your customer! If you want to target your products everywhere to everyone, you might end up getting no customers at all. That is why knowing who is your actual target audience is the first step.
Just identifying your target segment before creating the product description isn't enough. You need to figure out many things about your target customers such as,
How they are going to benefit?
What problems of them it can solve?
Why they would prefer it over competitors?
What words they will use to search for it?
What are their prospects of buying the product?
Getting answers to all these will help to decide what to include in the product description and how to present it on the product page. As you find the answers, you get an idea of your user persona. Not to mention, user persona should be the first thing in your mind as you write the product description.
Take the example of our 'Country Born Heaven Bound' t-shirt which targets young girls and women of the new age who embrace the southern country lifestyle and move with faith in God.
The description mentions "the perfect addition to your wardrobe if you love all things southern and spiritual!" This instantly evokes their emotions. It further stated, "Whether you're running errands around town or spending the day out in nature, the "Country Born Heaven Bound" T-shirt is a perfect choice….." With this line, we tried to lure the targets to buy by saying that the t-shirt is a great wear for every situation or occasion of their life.
Also, by mentioning the lines in the description, "Made with high-quality materials, this T-shirt is soft, comfortable, and perfect for all-day wear. It's available in a variety of sizes and fits, so you can find a perfect fit for you", we made sure that target women searching for stylish and meaningful t-shirts find our t-shirt better than the competitors in every way.
2. Explicitly define your product's advantages
This is a non-negotiable aspect when you are learning how to write product descriptions for your eCommerce store. People spend their money on a product for its usefulness or benefits. How are you going to ensure them that their money will be spent on the right product? Highlight the benefits, uses, features, and everything that seems relevant to their purchase decision while writing the product descriptions.
Mention vividly how your product will solve a problem or improve certain circumstances in their life. We recommend you use an emotional tone to write the content as it appeals more to customers and they will seemingly relate to the product to their needs or desires.
Before you jump straight to writing the content for description, take time to know your product and get familiar with its features, aspects, colors, dimensions, benefits, longevity, and even packaging. Discuss each of these in the description. The more specific your description, the more convincing it is!
When all the advantages and prime selling points are mentioned in the product content, search engines will also pick it as an authentic product and show it in the top results when anyone searches for the product with relevant terms.
Also, according to the successful sellers in our wholesale marketplace, a great product description is not only about stating the incredible features but how the product offers an incredible experience to the customers. With thousands of similar products available, buyers are interested in knowing how your product can make a difference in their experience. Keeping this in mind, here is what the seller of the Vintage Soul T-shirt, which is a simple comfy white t-shirt, wrote in the description.
"Made from high-quality fabric, it offers a comfortable and breathable fit, perfect for everyday wear. The design showcases a unique blend of retro typography and art, adding an artistic flair to your ensemble. Whether you're a fan of vintage aesthetics or simply want to make a statement, our Vintage Soul T-Shirt is an ideal choice. Embrace the spirit of the past while staying effortlessly stylish……."
The seller knew that there are several hundreds of thousands of such simple white t-shirts available online. So, the best way to make his product stand out in the lot is to focus on its creatively crafted center design that has a vintage charm and timeless font style.
3. Make your description captivating with influential words/phrases
Writing a captivating product description does not mean including flowery words or jargon that are hard to read or understand. It is also not about writing a sales pitch and persuading the customers to buy from start to finish.
Writing a perfect description is about using influential words that make the product description attention-grabbing yet meaningful.  For instance, using words and phrases such as 'comfortable', 'made for your lifestyle', 'ideal choice', and 'effortlessly stylish' work well when it comes to convincing customers to buy clothing items. Words and phrases like 'impeccable', 'elegant and chic', 'adds luxury to your space', and 'gives a creative touch' influence the customers most when they shop for home decor items.  Especially, when you are selling crafts online, focus on words and tones like 'beautifully handcrafted' 'piece of artistry' and 'craftsmanship' to help customers differentiate them from factory-manufactured items.
Thus, know your product niche well and pick powerful words that add more meaning to your description while making it still comprehensible and understandable.
Here's a fine example from our store explaining how to create a good product description using amazing vocabulary but without making it fussy.
"Our Space Cat T-shirt is the ideal addition to any cat lover's wardrobe! Made from 100% preshrunk ring-spun cotton, this tee is both comfortable and durable for everyday wear. The 3/4″ double-needle topstitched collar adds a touch of style, while the taped neck and shoulders ensure a perfect fit every time."
Words like comfortable, ideal, and perfect–fit and phrases like 'adds a touch a style' are the ones that convert.
4. Be as precise as possible
This one is unquestionably a vital tip to bear in mind when you are writing product descriptions for your online store. Keep your descriptions as precise and accurate as possible because people are not going to see and physically touch the products. They are going to assume the appearance of the product by reading the dimensions, weight, and specifications in your description.
Exaggerating any aspect or understating any aspect is not at all recommended! Mention everything about your product accurately. If the product's features and specifications are not understandable to you, then hire a product expert and get the exact details.
By describing everything about the product honestly, you can also avoid false claims in the future from any customers. Thus, it will assure that customers will trust your brand and also prevent anyone from giving negative reviews.
Remember, the goal of a precise product description is to provide buyers with the necessary information that will help them make an informed decision quickly. To know how to write product descriptions that are precise yet persuasive, take a look at the following examples from our site.
"Introducing our Triquetra tees, designed to fit comfortably according to your preferred size and lifestyle. Our tees are printed using the DTG (Direct to Garment) method, resulting in a sharper and higher resolution print compared to traditional printing techniques. With durability suitable for daily use, these tees are effortless to wash.
Additionally, we've included a tear-away tag to enhance comfort as nobody likes pesky tags! Upgrade your wardrobe with our Triquetra tees today."
Also, wondering how long a description should be if you have to keep it precise? It depends! Generally for products like electronics and furniture, you have to mention a lot of information including instructions for use. So, the length could be more. But, for products like decor items, footwear, accessories, or a clothing item, you can keep it short and succinct highlighting their features.
5. Use active voice and reflect your brand
Every eCommerce expert advocating about how to write product descriptions will tell this. Write about your product in an active voice and in a way that reflects the brand.
When you use the active tone, it makes the description engaging and compelling, which is not possible if your use passive voice. Active voice is a direct speech and hence, is more powerful in persuading the customers about your products.
Also, avoid creating your product descriptions in passive voice because it makes the sentences sound generic and dull. On the other hand, the active voice evokes a sense of excitement in your tone, making the description highly appealing to visitors.
Observe the difference between the two examples below.
A product description in passive voice:
"Our 'American Rodeo Long sleeve T-shirts' can be opted for by fashion enthusiasts who want to showcase their affection for rodeo arenas. Whether a night out is being dressed up for or a desire to display love for rodeo is the goal, the American Rodeo Long sleeve serves as a perfect choice."
Now, the same description in active voice:
"If you're a fashion freak and wanna show off your love for rodeo arenas then you can opt for our 'American Rodeo Long sleeve T-shirts'. Whether you're looking to dress up for a night out or simply want to show off your love for rodeo, the American Rodeo Long sleeve is a perfect choice."
Tell us honestly which one sounds good to you? We bet it's the second one in active voice.
6. Ensure readable description that's easily skimmed
Online buyers do not minutely read through the descriptions but just skim while looking for the perfect product they need. Thus, make sure that you write a description that is easy to skim and read. As experts, we suggest using bullet points, short sentences, and subheadings before each paragraph to make the description quick to skim.
You can also use bolds and italics to highlight essential features and selling points of your product. All-in-all, make sure that any visitors grab everything about the product with just one skim and can differentiate it from other products alike on the search engine. An expert idea that we want to provide regarding this is the use of simple font and an appropriate font size that is easily readable in all screen sizes.
To make the description easy to skim, it is important to create a balance between the information that you are providing in it. Split the information and equally distribute the text in points. Format the text with even distribution of words in each paragraph or point to make your product page readable and enhance conversions.
For instance, you can use a short paragraph to describe the item followed by some bullet points to highlight the features/benefits.
Here are the examples: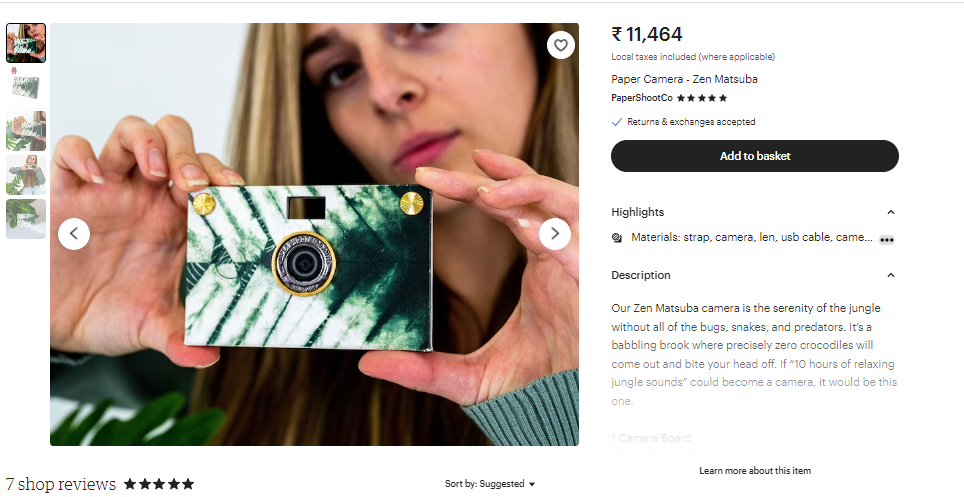 7. Avoid using technical jargon
While you should not avoid using specific words and influential phrases to write product descriptions, make sure to not use any technical terminology or jargon. Those can make your description incomprehensible and affect conversions. Many sellers skip this point while learning how to write product descriptions because they just focus on creating unique and persuasive content for their products.
Never assume that people buying a product know everything about it. Some might know that but a majority just knows what use they can get from a product or how it can benefit them. So, you need to introduce the product, mention the features/benefits, and explain how it will solve a problem or help them in the description. Using simple words or terminology is necessary to make them fully aware.
Even if you need to use some technical terms such as for electronic items, explain them in simple sentences. Complex jargon or technical terminology might confuse your potential customers and make them leave the page. Keeping your description simple, coherent, and easy to understand is the key to reducing bounced-back visitors and improving conversions.
8. Add social proof to build trust in customers
How can we forget about this among the tips to write product descriptions that sell? Social proofs are a conformity that makes people believe in the originality of the product and the brand that sells it. Why?
While shopping online, people not buying it in the presence of upfront sales executives in a storefront who can assure that the product is perfect and appropriately packed. Naturally, they are unsure about it and will seek clues to as certain the authenticity or usefulness of a product. You can help them by providing social proofs including other customers' reviews, testimonials, and ratings in your product description.
Such social substantiations build trust in the customers by ensuring the credibility of the products. Consider the perceptions of online buyers by putting yourself in their shoes. Will you buy a product with reviews/feedback from people who used them or a product that does not have any? The answer is clear! You are most likely to spend on a product when you see that others have got positive experiences with it after reading the reviews. Read our blog on how to get more customers to learn how you can convince your customers to give reviews after a purchase.
Customer reviews and testimonials are a part of the user-generated content or USG that has the potential to influence purchasing decisions of online buyers. Every seller must follow this tip while considering how to write e-commerce product descriptions that assure conversions. It will result in less abandonment or bouncing back of visitors from your product pages.
9. Create a sense of urgency
If you are still wondering about what to put in a product description that can drive conversions terrifically, here is this magic trick. Indicate scarcity to evoke a sense of urgency in your product description. Use certain words in your description that implies the products are limited and will soon run out of your stock. This will convince the people you liked the product or need it to buy sooner before it goes out of their hands.
We suggest the use of phrases such as "Hurry! Limited Stock!", "_ units left", "items selling out fast", "limited offer", and "sale lasts for __:__ hours".
The product descriptions that successfully created a sense of urgency and helped sellers get more conversions have lines like these:
"Hurry! This exclusive sale ends in 24 hours. Don't miss out on the chance to get your hands on our premium product at an unbeatable price!"
"Only 3 items remaining! Get yours before it's gone forever. Once they're sold out, they won't be restocked."
"Introducing our limited edition collection – less than 100 pieces available worldwide! Be one of the selected few to own this exquisite product before it's gone forever."
From these, you can understand that urgency can be created by notifying buyers about limited stock, limited-time offers, flash sales, daily deals, and countdown timers.
10. Include a compelling call-to-action
No point in guessing why this is included among the tips on how to write product descriptions for eCommerce stores. You must put CTA (Call-to-action) at the last of every product description to make sure that the visitors convert. It's about telling the customers what to do next once they have gone through the details and liked the product.
When it is about writing CTA in your product description you need to consider a few things.
Make the text of your CTA as simple and engaging as possible.
Using action-oriented language to compel the buyers to click on the buy or add-to-cart buttons such as 'limited offer', 'buy now to save', 'buy what you love', and 'sale ends soon'.
Keep the CTA concise by avoiding lengthy sentences such that it is easily understandable to the customers and persuades them to take the next step.
While you have already mentioned all the necessary details of the products before, focus on providing reassurance in the CTA section at the last. Talk about a money-back guarantee, secure payment, or customer support to remove any hesitations that customers might have in mind.
As experts, we always recommend emphasizing the CTA to anyone who wants to know how to develop product descriptions that sell! Just remember these few things to create a well-crafted CTA.
11. Observe how your product description performs and optimize it
Finally yet importantly, have some patience and see how the product performs in your online store once it is listed with a perfectly crafted description.  You can even alter the description after some time and see how it performs. This way you can test different versions of the description of the same product to find out which one is the most effective.
In each version, change the heading, description, and CTA keeping the key features or advantages as in bullet points. You can change the description based on your buyers' responses and improve the wording and tone if required.
Through the description, you create the first impression of your product and the brand. Thus, remember to optimize it over time to make it clear, concise, captivating, and informative.  If you have enough time, go and evaluate your existing product listings and optimize their descriptions using our tips.
Time To Write Product Descriptions That Lure Your Customers!
Knowing how to make a product description interesting and compelling is one of the fundamental steps to eCommerce success! It needs a strategic as well as creative approach while adhering to search engine optimization practices.
In conclusion, crafting great product descriptions is vital for any online store. A good product description not only informs potential customers about the key features and benefits of a product but also speaks directly to the target audience. By using certain words strategically and incorporating relevant keywords, your product pages can rank higher in search results, attracting the attention of your target buyers. Furthermore, including social proof such as customer reviews and utilizing bullet points can help influence purchase decisions. Remember, a well-written product description showcases your brand and creates a connection with customers, driving them closer to making a purchase. So, invest time and effort in perfecting your product description writing to create the perfect product descriptions that captivate and convert your potential customers.
Clearly, writing product descriptions for your online business is not just about defining the product's specifications and explaining what it does. You need to focus on the hows, i.e. how the product is going to benefit customers, how it is different from competitors, how it can solve a life's problem/crisis, or how it can improve the lifestyle/a situation. When you answer all these in your description, it urges the shoppers to try the product, and that results in greater conversions.
Other things that you must remember to write product descriptions that sell are infusing a sense of urgency, proving an appealing CTA, using active voice and powerful words, including social proofs, and avoiding complex/technical terminology. With all these things clear in mind, we are sure that you know how to write product descriptions that convert and trigger sales!
If you are an aspiring eCommerce seller or have a willingness for starting a wholesale business online sooner, Main Street Market & Gifts is the right marketplace for you! We have a simplified product listing procedure for merchants and ensure that you can sell your stuff effortlessly writing compelling product description content. Join our marketplace any time!