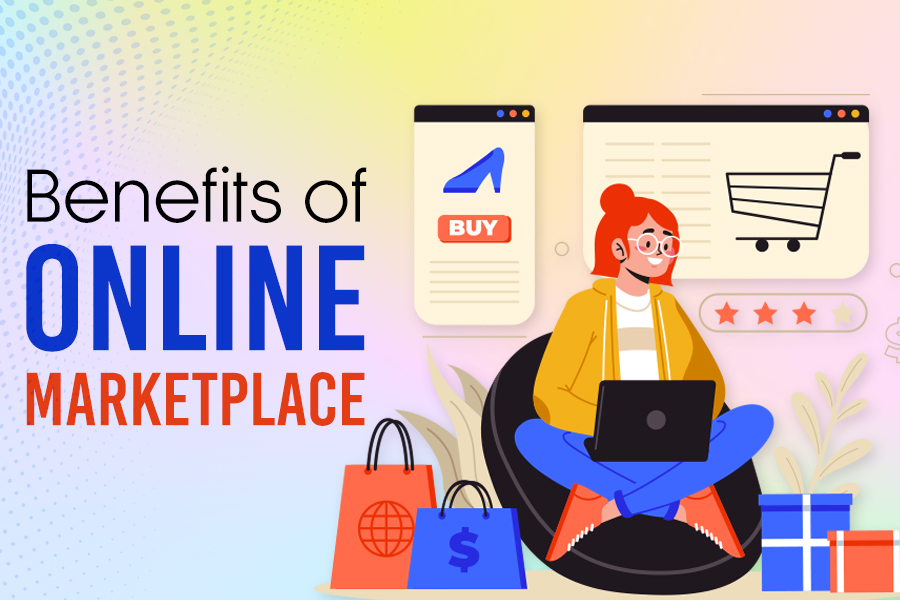 In 2018, online marketplaces claimed more than 40% of the entire online retail sale in the US. There has been a steady increase since then. When the numbers are such, one shouldn't disregard them at any cost, right?
There are two instances of corporations adapting their business models for customers and sellers as part of the emerging B2B marketplace phenomenon. The names are Alibaba's Aliexpress and Amazon's Amazon Business.
According to many studies, the majority of physical businesses are launching their products on online platforms. Using marketplace platforms, firms have recently attracted the attention of a variety of customers. This digital era has taught us a lot about the benefits of an online marketplace with new tactics and staying at the top.
In the world of wholesale fashion trends, online marketplaces have become a game-changer for physical businesses. Studies show that many businesses are now launching their products on digital platforms, attracting a wide range of customers. The digital era has taught us valuable lessons about the benefits of online marketplaces and staying ahead with new tactics.
In this blog, we will discuss the benefits of online marketplace in detail. You'll know about the different kinds of e-marketplaces, selling tips on such a platform, and the difference between an online store and a marketplace. Keep reading!
[ez-toc]
Online Marketplaces- What Is It?
Before jumping to the benefits, let's first understand what e-marketplaces are. They are platforms that act as a sort of middleman between buyers and sellers. It may be a website or a smartphone app.
The main activity in such a platform is providing goods or services to consumers or businesses. The majority of the time, third-party businesses that don't own any goods or services take advantage of them to earn a commission. Craigslist, eBay, and Amazon are some popular examples of e-marketplaces.
In today's age, because of the extensive availability of the online market and the enormous returns on capital, e-marketplaces are no longer unknown to businesses. Also, rather than doing business offline, vendors now prefer online marketplaces due to various reasons.
If you Know what are the best things to sell online you can start selling and make huge profits with the help of online marketplace.We shall discuss them here, and it should give you an idea about the significance of online marketplace in businesses.
Benefits of Online Marketplace From The Sellers Perspective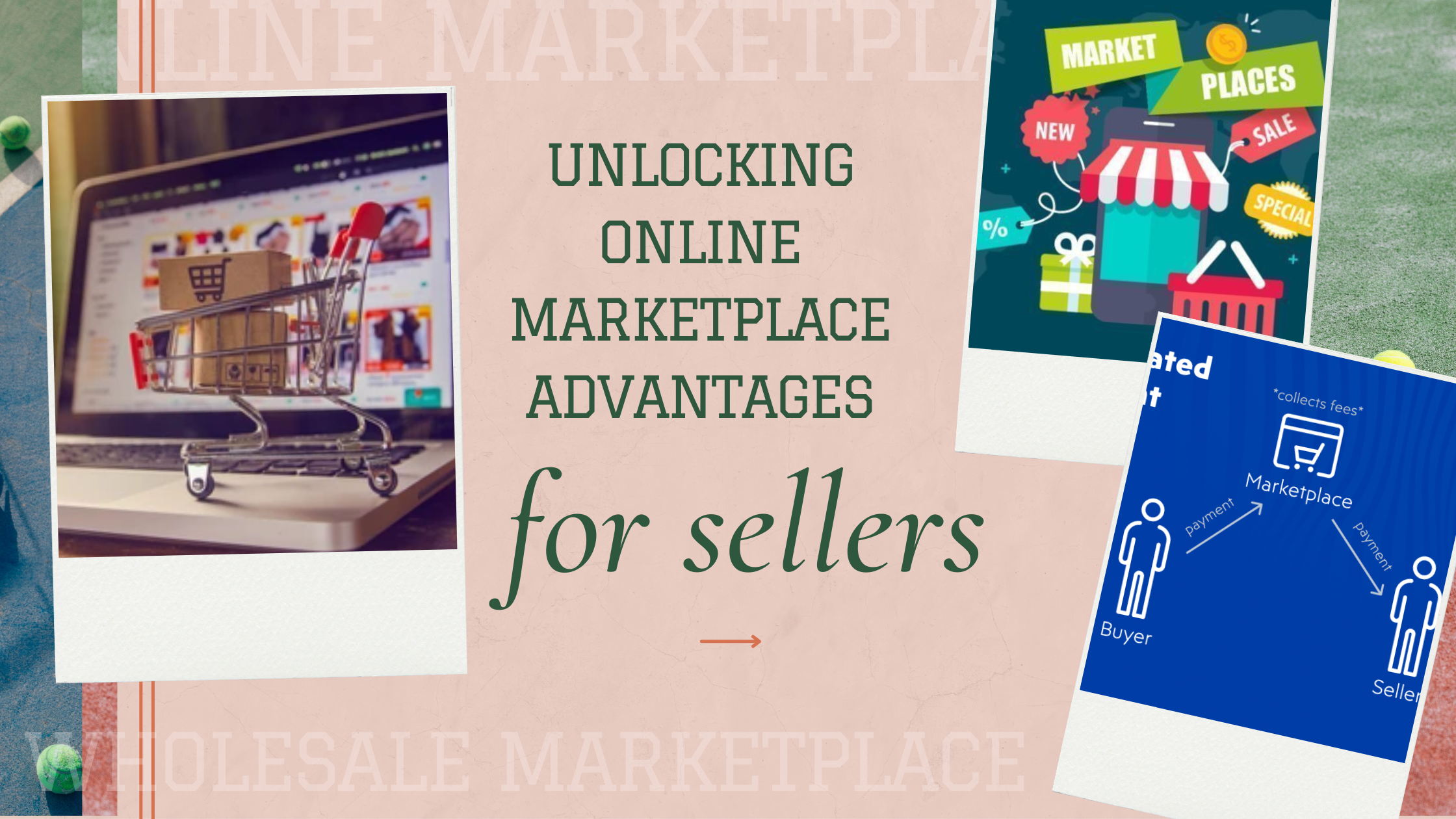 Money is the name of the game when it comes to starting a business- the more, the better. From a seller's perspective, online marketplaces offer some wondrous benefits. Let's read some advantages-
1. Wider reach and improved sales
Sellers need a large customer base to make their businesses work. For new businesses and small retailers, online marketplaces are a jackpot because they have a better reach. They are much more credible for customers and trust the brands already on such platforms. This is the reason why an online marketplace is much preferable for sellers. Whichever business you start, the numbers will speak for themselves. Unquestionably, the primary motivation for every business is to increase sales that start selling on an internet marketplace.
Instead of merely displaying items on the self-made website, online marketplaces that typically have recurring clients will give them greater visibility to more prospective purchasers. This is logical because adding more listings of your items should increase traffic and, ideally, purchases.
2. Automation is the key
In the age of rapid technological advancement, one needs no documentation for the online marketplace. This is because everything is controlled online; plus sales and royalties are how businesses make money.
By handling the storage and work process connected to the organization, automation aids in staying one step ahead of the market. Isn't this one of the best online selling benefits?
3. Overseas Expansion
Another benefit of online marketplace business is that it is used as a strategy for global growth frequently. It is so where a retail or e-commerce firm may enter a new market abroad. Since the online marketplace serves as a collaborator, with the necessary expertise and tools, doing business would be quite beneficial. Such platforms can have high streaming traffic to offer immediate publicity to prospective clients in the selected nation. This is better rather than requiring to establish clients from scratch.
The time difference may have an impact if you are extending your business all by yourself overseas. New clients may want to contact your company but can't due to this reason. There aren't any time constraints with an online marketplace. It can be operated all the time with a team trying to fix any problems that arise and trying to offer aid.
Isn't that an amazing online marketplace benefit?
4. Minimal technical hassle
If you want to sell something online, does that mean you have to build your website? Not really! This is your chance to start right away with the online marketplace. You don't have to worry about the technical processes and jargon. They are made in such a way that you can easily use them.
Online marketplaces have minimal technical problems and can handle a high capacity of traffic.
Selling on these platforms will help sellers save the time and money they might otherwise spend dealing with technological problems on their websites. Sellers wouldn't need to spend money on employing a sizable staff to run the store. And no more tedious hassles of paperwork and waiting.
Businesses can set up their shop on the e-marketplace and enjoy the benefits. Take advantage of payment processes, advertisement, shipping, and distribution within minutes of registering.
5. No More Inventory Management
The advantage of online retailing is that there is no need for inventory management. For physical establishments, online marketing helps to reduce inventory management necessary for smooth and simple operations.
Getting the order and contacting the vendors are the only things required for a refined business. The vendor handles the remainder of the procedure. You can even contact your logistics partner if you are not in charge of the logistics. It saves quite a lot of money since there is no separate inventory.
6. Growth in Sales Channels
If you someday question- why online marketplace? We give you another reason to choose it. Online marketplaces offer an extra channel to promote all the products, and strategically sell them. Those who sell only through their site may have limited market exposure.
One could use the online marketplace to increase brand exposure. Regular guests on such a platform may come across your product before clicking on the website leading to a discovery of various other products.
7. Trust Does the Work
E-marketplaces build a lot of trust between consumers and retailers or e-commerce shops. There is a lot of transparency concerning product availability and prices. There will also be genuine customer feedback regarding the quality of products and services. Because of the high transparency levels, the services businesses provide must be top-notch. It will impact trust levels, whether it's parcel delivery or prices and quality.
8. Outstanding service
To build consumer trust and promote the business, after-sales support is crucial. Selling your goods on these platforms might help sellers avoid the headache of management and providing customer care. All post-purchase services, including delivery payments, shipping and delivery, refunds, exchanges, and more, are handled by e-marketplaces. The benefit of an online marketplace is that it can manage all kinds of logistics, saving money for businesses.
9. New Trading Partnerships
Looking for new partnership opportunities? Online marketplace sure has the space to create new trading partnerships, particularly with suppliers and traders overseas. It could happen because of the elevated exposure of businesses introducing new suppliers and traders.
New partnerships could also happen via direct introductions using online marketplaces. Whichever the reason, businesses have a chance to create new collaborations, which may lead to skyrocketing growth.
10. Analytics- A Close Assessment For Everyone
We all know how the psychology of human behavior has benefited many firms. The same goes for analyzing customer behavior for business decisions and patterns. When business owners understand customers, they publish advertisements and run campaigns accordingly.
The benefits of online marketplace allow businesses to access intricate information. They will know the number of clicks and time spent on websites. When one accurately knows the data, it helps in strategizing a plan to better the business model. It is the key advantage of selling products online.
This works profitably for all parties. Customers get what they want, sellers get their sales, and the online marketplace platform earns through commissions or listings fees.
Advantages of an Online Marketplace From Buyers Perspective
It is not just the sellers who benefit from the e-marketplace. Buyers have the benefits of online shopping when using such a platform. Here are some of them-
1. Best deals
We all want to save money and find some good deals during a shopping spree. Because of the e-shopping advantages and the multi-vendor concept, buyers can find updated and amazing offers. Online platforms aid the buyer to reach their ideal seller who offers the best price and quality. This is a crucial benefit of e-shopping.
2. Easy Comparison
Whenever customers shop, they tend to compare prices. This is true for both online and offline shopping. They want to know if there are better products. Buyers get to see all products and compare via an online marketplace. They can compare the rates and quality before buying the products. Now that's a great advantage of online shops!
3. Real-time update
For buyers, it's all about getting quick information while making an online transaction. E-marketplaces are a safe bet for them. It is better than any random new website. Well-established online marketplaces normally give updates about inventory that make it easy for purchasers to get the finest deals. Aren't these the best gain for customers of online retailing?
4. Confidence Among (new) Customers
How often have you hesitated in buying a product from an e-commerce store rather than an online marketplace? We sure have! The hesitation comes for many reasons, like trusting new brand names, fake reviews, etc. But since online marketplaces have the benefit of having impartial reviews, this creates room for new consumers. They can confidently purchase products on this platform and reap the enormous e-shop advantages!
5. Convenience
We live in an era where we have too many options to look for and all kinds of products and services come to us with just a click on phone. When customers use e-marketplaces, they have the convenience of looking into different products in one platform. They just need to find their favorite item, checkout, and get the delivery within a day or two. With product variety, fast and varied delivery options, and in-stock items, this has to be a major advantage of online marketplace shopping.
What Are The Different Types of E-marketplaces?
E-marketplaces come in a wide variety of forms depending on various business concepts. Depending on how they function, they can be divided into distinct groups. It will give you a fair idea about such platforms in a clearer way. Here we have listed 3 main types of e-marketplaces-
1. Business-to-business marketplaces (B2B)
The B2B marketplace is a website where the bulk selling of various products or services takes place via wholesale suppliers to buyers. Usually, a third party operates this type of marketplace, letting businesses utilize it on favorable terms.
Using such a marketplace has advantages like better online sales, no large upfront investments, distribution to more customers, etc.
An online B2B marketplace's concept revolves around streamlining the selling and purchasing process. The idea is to offer excellent customer service and enhance transparency during financial deals.
2. Business-to-customer marketplaces (B2C)
There are two types of users under the B2C marketplace model- customers and businesses. Businesses sell their services and products directly to the customers and not to other businesses. Several B2C e-marketplaces are like a one-stop shop. It is a platform where customers purchase a wide variety of goods online.
This model is quite popular currently, and there are famous B2C marketplaces. An excellent B2C example would be Booking.com. It is a travel marketplace connecting travelers with hoteliers online.
There are benefits of e-shopping to customers and earning through either commission-based models, listing fee models, subscription business models, or a combination of all. However, B2C also faces aggressive competition and pricing challenges.
3. Peer-to-peer (P2P) or customer-to-customer (C2C)
A peer-to-peer, also known as customer-to-customer (C2C) e-marketplace, connects people with similar tastes, income, and requirements to share services and products. Peers can share products or services in exchange for other services/products or money.
P2P markets are a component of the sharing economy. It assists individuals in making optimum use of materials by renting rather than purchasing. The most significant feature of this kind of market is that an individual may be a consumer today and become a vendor tomorrow.
Compared to the B2C and B2B formats, P2P has a shorter selling process and average connection duration. It has various advantages to customers of online retailing. P2P mostly earns through paid promotions and advertisements.
Online Store and Marketplace- The Difference
Selling goods online is a fantastic way to expand your customer base and cut expenses, but it can also be perplexing because there are numerous alternatives. It may become challenging to choose which one is best for you. Hence, first, understand the distinction between an online store and a marketplace to define the features of each platform more accurately.
An online marketplace is a forum that brings together various sorts of vendors, including autonomous sellers, local shops, small enterprises, and product owners. An online store is a site created and operated by a solitary seller that is exclusively committed to online sales.
There are disadvantages and advantages to having an online store and online marketplace. In the end, it is up to you to decide which one to choose.
Top Selling Tips on Online Marketplace
We get more inquiries from business owners about how to increase sales on online marketplaces as e-commerce becomes ever more popular. To become a successful seller on the e-marketplace, here are a few tips for you-
1. Buy a competitor's product-
When you start researching the online marketplace, buy a competitor's product. Confused? We'll explain why. There's no better way to get educated than purchasing firsthand from your rival. You'll have a lot to learn even after returning the item. This will give you insights into the service process for customers. Compare the experience of buying from their website and also the marketplace. Do you see any difference? Note them down immediately.
2. Create an account, and list your first product-
Using the knowledge you've gained about your rivals, choose a market where your ideal clients are likely to be found. Pick an item to list next. When your product is available for purchase, take these actions-
Watch customer engagement daily
Request for feedback from the first customer
Notice where the leads come from (marketplace, social media, or website)
Add more products as you get comfortable after fulfilling orders.
3. Track customer complaints and returns –
Every business faces too many challenges. Failing to track complaints and returns will hurt the company's reputation and sales. Make sure you solve all issues within a couple of hours. This also goes for payment portals linked with marketplaces. Note that many cancellations happen because of confusing exchange cuts by credit card firms. Therefore, make sure the pricing is in local currency.
4. Consistency with pricing strategy-
Many firms on online marketplaces faces commission hikes when starting to make a sale. If your intended audience is familiar with purchasing on online marketplaces, this might be highly costly and unproductive. We advise you to modify your online sales approach per channel to prevent cannibalizing your online marketplace revenues.
5. Get the correct price and be patient-
Online markets are distinct from traditional e-commerce. Several of these companies concentrate on high-end niche items with a tiny clientele who can wait for weeks for a special order. Most importantly, a sound pricing strategy is essential since many customers are searching for what they believe to be a good offer. So be patient with this part. If it seems overwhelming, get help from agencies, commercial experts, or even your business partner and start talking.
Business owners, who are successful in brick-and-mortar businesses are also successful in online markets. They understand the game's rules, arrive equipped, and take over new markets. So think extensively about how such a platform can improve your brand's name and reap the benefits of the online marketplace soon!
Online Marketplaces- The Game Changer
Online or e-marketplaces provide several advantages. But keep in mind that there are issues associated with every online platform. Say for example online marketplaces, like Etsy, provide several advantages. But is selling on Etsy worth it? We must ensure that there are problems with each online platform. While conducting business online, you must maintain a tight watch on the business model. Getting consumers and sellers to participate in a marketplace is its biggest hurdle. Be careful not to make any decisions that might undermine it or shoo away the buyers. If you are looking for a perfect online marketplace with several benefits, MS Marketing and Gifts is the one for you. There are advantages of online sales and benefits of online retailing through such a platform. You will see a boost in business, improved selling strategies, and better leads.
Frequently Asked Questions
1. What are the features of an online marketplace?
Some features that align with the online marketplace are an order management system, a user-friendly portal for sellers, seamless seller onboarding, customization, rating plus reviews, a content management system, impacting product page, varied payment options, product recommendations, and many more. These are some of the splendid features that keep the online marketplace the best option to start a business.
2. What are the three 3 main functions of e-marketplace?
E-marketplaces put great economic value on sellers, buyers, marketplace intermediaries, and society as a whole. They have three main functions:
they link buyers and sellers
they make it possible to trade data, goods, and services
they provide the infrastructure—such as a legal and regulatory framework—necessary for the marketplace to function properly.
Businesses succeed quickly when these are running smoothly.
3. What is the purpose of an online marketplace?
The online marketplace is a two-sided business concept. The purpose of such a platform is, it brings together potential consumers and sellers on a single platform to facilitate the purchase sale, or exchange of goods and services.
4. What are the 3 main types of online marketplaces?
The three types of the marketplace are-
business-to-consumer (B2C)
business-to-business (B2B),
consumer-to-consumer (C2C) or peer-to-peer (P2P) marketplace.
 5. What is the online marketplace strategy?
When talking about online marketplace strategy, it means making a dedicated distribution plan through e-marketplace platforms. The fundamental principle is similar for B2B and B2C sectors however, there are a few differences, as well.
6. What sells well on the online marketplace?
There are endless products for buyers on such platforms. Some popular items, like books, Bluetooth speakers, makeup, home décor materials, and multi-utility items, sell well on online marketplaces.
7. How do sellers get paid in the online marketplace?
As a seller, you may get paid in different ways. It may be through commissions, subscription models, lead fees, freemium models, or listing fees. Sellers can choose either one or combine a couple using a mixed revenue model. They may pick according to what suits their platform.