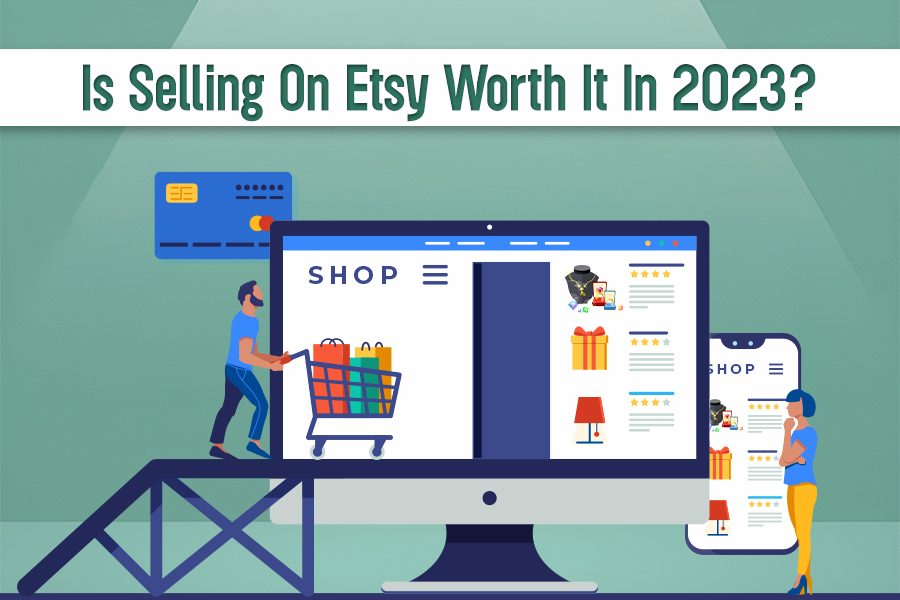 If there's one widely prominent marketplace to sell your handmade or homegrown products, it's Etsy!
It allows craftspeople of various types of products, from jewelry and clothing to home décor and kitchen items to sell to a wide range of audiences.
While no doubt Etsy is a brilliant platform for newbies with a stock of handcrafted products to start selling quickly, many sellers (especially those who already sold on Etsy) can't just drop the certain snags that the platform brings in for them.
So, that leaves beginners with the big question – is selling on Etsy worth it in 2023?
Well, we can't just get an answer without knowing what the existing and former sellers have experienced with the platform. Etsy is performing excellently today with active buyers of over 90 million, as per Statista. That's huge!
Besides, it's a low-investment and low-risk approach to start selling. For any home-based business or entrepreneur who is looking forward to reaching a vast audience and growing as a brand, this is the right platform, to begin with.
But what about the long-term prospects with Etsy?
To grow businesses need to focus on profitability and many other aspects like branding, faster selling and delivery, superior customer support services, product diversification, and so on.
Does Etsy allow/ensure all these?
We'll answer all these here in this inclusive blog. Besides, we explained sellers' real experiences here, the conditions provided by Etsy to the sellers, what are the alternative platforms available, and whether to switch to alternative platforms.
However, before all that, we should just straight jump into the pros and cons of selling on Etsy! It will give you enough clarity on the opportunities and hurdles of selling things on this platform.
Find Out Whether Selling On Etsy Is Worth It For You: Pros and Cons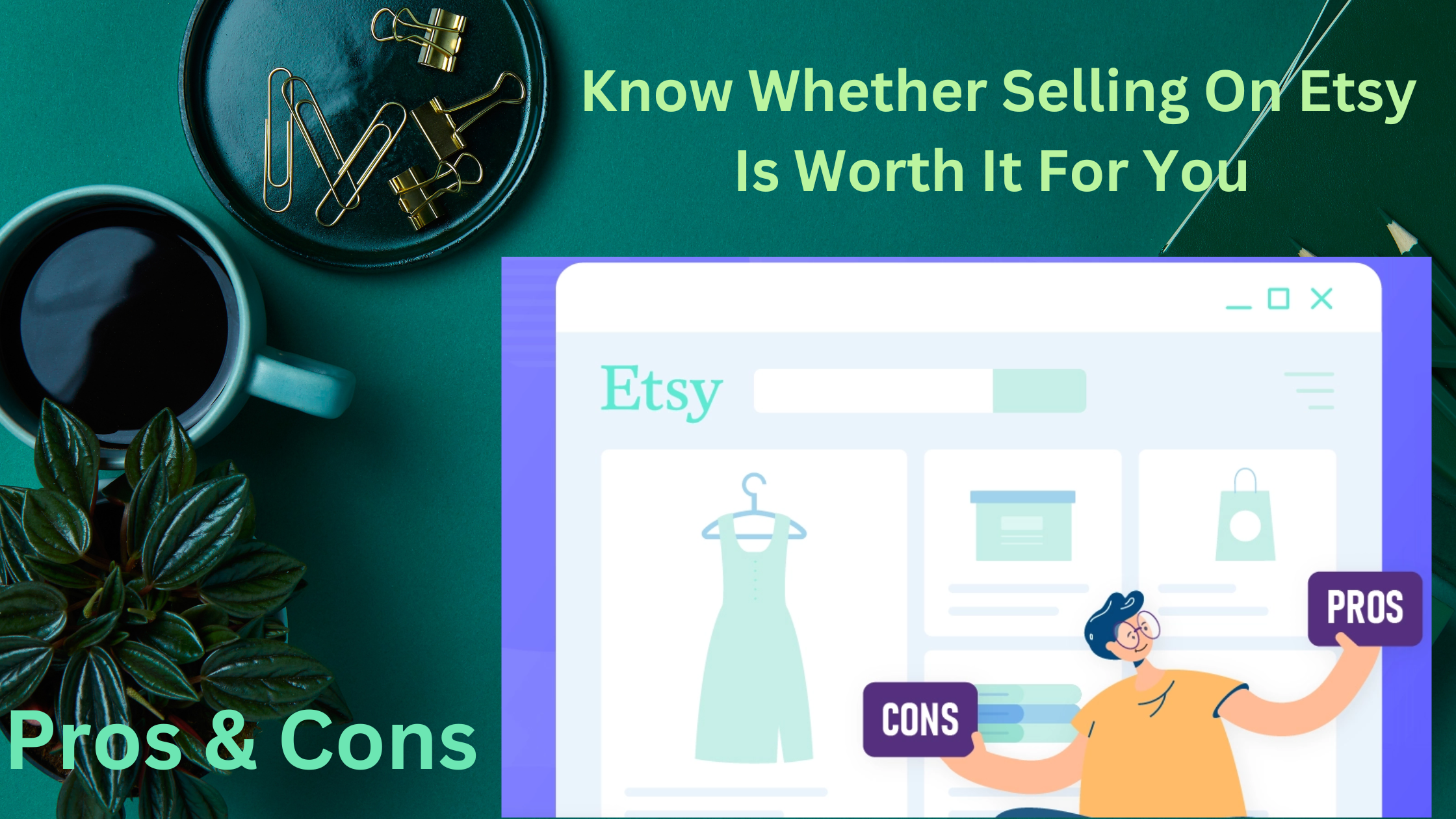 Etsy is perhaps the favorite marketplace for selling creative and handmade products. It's the easiest and most lucrative option for small-scale/home-based businesses to start selling their things without risking your money. It needs minimal investment as compared to creating a brand-new online store for your products. Selling on Etsy's pros and cons will help you contemplate well what the platform has to offer.
Pros of selling on Etsy:
Selling your artistic items on Etsy is a great way to start your business because of the pros. Check them out!
1. Exposure to a large customer base
This is the biggest pro of selling things on Etsy we assume! The marketplace has acquired nearly 95 million active buyers as of now. That leaves enormous scope for the sellers to earn through the platform without putting much effort. Etsy has an established audience base spread across the world. It enables you to build an online store that gets you instant access to various buyers.
Since the active number of users has been growing continuously, it is expected to grow further. So, that leaves you with minimal doubt about the selling prospects of your unique products.
2. Cost-efficient way to start a business
Etsy is a blessing for new or small traders that have a limited budget in hand and want to start their business slowly and make it huge gradually. Setting up an online shop has never been as easy and cost-effective for them as it is with the platform!
Compared to building a full-fledged website or an online store, it needs some minimal costs such as selling fees, transaction fees, and so on. Websites need hosting costs and domain fees, which are not needed in Etsy.
3. An effortless way to start selling
Not only cost-effectiveness counts, but the process of listing your products on Etsy is hassle-free. As a seller, you just need to fill up the web form required for listing your product. There's a nominal fee charged for the listing.
Uploading the photos is easy too!
You can put a unique description using various pull-down menus and even select the relevant keywords that will make them easily discoverable on Etsy's search engine.
4. Good establishing ground for your business
There's no room for doubt whether Etsy is a good place to sell. There are many hurdles or disadvantages of selling on the platform that we will be discussing later. But that doesn't mean we will overlook one of the biggest pros of the platform.
Etsy becomes a great testing ground for your new business and helps you know how it will perform in the market or whether it can grow as a brand.
You might have a plan for launching a website and branding and selling your products. But, you need to know about the potential of your specific handcraft pieces in the market. Etsy lets you know that!
It not only introduces your business to the market and tests it but also buys some time for you. Hence, you get enough time to make money and invest in your website.
With Etsy, you can shed the worries of business failure! You can start to earn money slowly, know your customers, responses in the market, etc. before you make the big plan. In other words, whatever you learn during the selling period on Etsy, use them as stepping stones to success for your online store just the way Brooklyn Candle Studio or Three Bird Nest did.
Within 6 months of the Etsy shop, Brooklyn Candle Studio sold candles worth $4,000 which was beyond the owner's expectations. With the earnings made, she invested in a Shopify store and doubled her income while selling in both shops.
5. No need for marketing
Etsy is already known worldwide and it's continuously investing to promote its platform and bring more shoppers. They are promoted through television commercials, print ads, and social media platforms.
Your business does not need to work extra to market your products once you list them on the platform. Share the link to your products on email, social media posts, and valuable blogs. You will get customers coming into your store gradually.
By deciding to sell things online on Etsy, you get the benefit of a globally popular marketplace that has a good flow of traffic and hence, a potential customer base for your products.
Cons of selling on Etsy:
While you just got to know the advantages of selling unique handcrafted products on Etsy, check out the many cons that make you question whether starting an Etsy shop worth it? Here are they!
1. Higher competition due to the growing number of sellers
The number of sellers on Etsy is incessantly growing. In 2021, the number of sellers doubled from what it was in 2020. The figure jumped from 4.4 million to 7.5 million active sellers. This progress was huge mainly due to the spur in online selling mode during the COVID situation.
The astonishing number of active sellers clearly states the competition that new sellers face while selling on Etsy. It's hard for them to position their products amidst the intense competition, especially if they sell in popular niches like clothing and home décor. Things are more difficult due to the limited space on the platform's search result page.
No wonder, it would be difficult for your target customers to find your products when there are lots of other products showing up. Therefore, you need to target your audience segment by listing your products with the right keywords.
2. Restricting the sales to Etsy clients
While no doubt, Etsy is a prominent marketplace, its contribution to the eCommerce marketplace is compared to Amazon or eBay. In terms of any of these marketplaces, it is far behind.
With a few specialized niches, Etsy is only able to grab a market share of 4-5% with nearly 500 billion dollars in revenue. That's too less compared to what Amazon makes (approximately 260 million dollars).
Want to know the reason for this immense gap?
Etsy builds its own customer or client base that is driven by your product listings. There are fewer chances of your listing appearing on Google search pages. For this reason, Amazon and other marketplaces have unlimited traffic flow and sellers have more chances to get found.
This simply means, by selling your special products on Etsy, you are losing out on the chances to reach 95% of the eCommerce market.
To put it simply, you can only reach Etsy's limited customer base when you sell anything. And, this is the prime reason many sellers move out of the marketplace, which leaves new ones wondering whether they should sell on Etsy.
3. Inability to build your customer base
Retaining customers is a better strategy than acquiring new customers if you want to grow your customer base. Repeat purchase is one of the sure-shot factors of success in eCommerce.
As per Statista, Amazon collected a total of 38% of its revenue from repeat purchases. However, this was possible only because the giant eCommerce store allows sellers to generate an email list. It helps in sending targeted/personalized messages to customers, reminders for wish-list/saved carts, and provides loyalty points or rewards.
This is not the case with Etsy! It does not allow sellers to add an email list or provide any of the strategies for customer retention.
In other words, every sale made on Etsy leads to one-off communication with the customers.
Etsy restricts your potential to sell and earn more through a loyal customer base.
4. Getting rank on Google search is challenging
You never know how Google's algorithm works! Etsy's sellers often see a sharp drop in their product views and hence, sales. It's primarily because Google does not keep duplicate content of the listings on the search results.
Even if your content is the original one, Google may not know that and rank them on its own based on page strength, quality backlinks, and other factors. So, even if your product descriptions are original but someone else has copied them, you can be marked as a duplicate. This also puts your business at risk of getting penalized.
That's why isn't Etsy working well for many new businesses today that put all of their creativity into listings and product descriptions but fail to draw traffic from the search engine.
5. Etsy shop lacks credibility
While Etsy is undeniably famous for small home-based businesses selling handmade products, it still hasn't achieved credibility like other eCommerce stores.
Why so?
It's the common perception that Etsy is run by a handful of individuals who own small businesses. To put it in simple words, the sellers are there for a side hustle instead of a full-time venture. Therefore, it is less professional!
This makes any new entrepreneur doubt whether selling on Etsy is worth it. Since they are trying to catch up with the growing eCommerce market with a prominent presence, they mostly consider that a customized online store with a domain is better than selling on Etsy.
It is the reason why Popov Leather, a manufacturer, and seller of tailored-made leather items soon moved to its store. While it has reasonable earnings in the initial stages, it could not stand out in the competition despite selling handcrafted and bespoke items.
Etsy's shops neither displayed the products in a sophisticated way in the listing nor assured the professionalism of their business. Creating a full-fledged online store was therefore a better option for the owner where he showed products with images in a glamorous way.
Also, having a store looks makes a seller credible to its customers and you can expect to get more visitors than your Etsy shop.
6. It's harder to build a brand on Etsy
Selling on Etsy might be a convenient option for startups to kick-start their business but it's not if you are trying to build a brand.
To make your products saleable on the platform, you tend to look at the competitors.
You try to understand their listing style, product descriptions, price range, and so on. To make your products equally attractive to your target audience, you try to copy or imitate them. In a way, all the sellers on the Etsy marketplace are quite similar, each one trying to copy and outperform others.
Well, that's how Etsy works for all niches! You can't expect to build a brand by just selling your things there.
Also, all the shops on Etsy look similar. Even if a seller curates its unique product descriptions and tries to make a great impression with catchy images, listing structure, and pricing, it will hardly make any impact. All the shops on the platform have the same look and feel, no matter how distinct your products are.
This makes it truly hard for any seller to stand out from others and grow as a better brand.
LePapierStudio, specializing in custom accessories accredited its initial success to Etsy. But, when the owner decided to diversify to make a difference and grow as a brand, she built her store, i.e., Vana Chupp Studio.
7. Never get featured on press materials
An Etsy shop is hard to promote through print magazines or press materials. If you are trying to make your business prominent in the market, you will need to spread the word through the mainstream media like the press.
Unfortunately, Etsy does not let you get featured on any press material! That's perhaps one of the biggest flaws of the platform.
To get featured, the magazines or catalogs have to provide your shop's Etsy link or mention to readers how they can find your products on Etsy. Thus, it makes the advertisement more unappealing than advertisements of any standalone online store.
Many magazines or publishers also refuse Etsy shops because they do not seem legitimate.
If print promotions are a vital part of marketing strategy, then this is not the right platform to start with.
8. Free shipping issue
This is another major problem that makes anyone question 'is an Etsy shop worth it?'!
Etsy made an inconsiderate move by compelling the sellers to offer "Free Shipping" after a certain order quantity or cart value.
The reason is obvious!
The platform tried to maximize its profits while sidelining the interests of the sellers.
This problem aggravated the sellers who offer original paintings or pieces of art. Packaging of such items needs to be done precisely with specific materials. That raises their packaging.
So, how they are going to earn their profits after affording the packaging and free shipping costs?
Etsy's shipping policy is therefore a major drawback, especially when small-scale sellers are ruling that marketplace.
9. Your success or failure fully depends on Etsy
If you are on Etsy, there's no choice other than agreeing to its set of rules and selling your stuff accordingly. Even if the shop decides to close or block your account for any reason, just like they did for Artfire, you got nothing to do.
Though this extreme case does not happen often, you can face other things like a raise in selling fees or sudden additional charges.
Truly, anything can happen when you are on Etsy! And, you will have no control over the situation. If you have established yourself as a successful Etsy seller and have made huge money, everything is lost when the platform decides a move that goes against its sellers.
10. There is the least scope to scale on Etsy
This platform offers the listing of only homemade or handcrafted goods and underlines certain rules for their sellers.
Since most of the goods are handmade, it takes time to produce them and that puts a limit on your store's scalability.
However, if you overcome your production restrictions, it would be still difficult to scale your business. It's because Etsy does not support proper onsite optimization. There're restrictions on listing and promoting, along with major fulfillment conditions.
The Old World Kitchen was one of the popular Etsy sellers that moved out of the store due to scalability issues. When the business defined its brand and reached outside the platform through social media profiles, it increased its target audience base. That was the time it felt the need to move to its store where it can list all its products and sell more, which was not possible with Etsy.
11. Hard to build customer loyalty
Your customers are aware of your products or have bought them because they love Etsy! Not because, they love your products or are a fan of your brand.
They were looking for handmade products, and they know Etsy is the ideal marketplace. They will visit the website and search for products from hundreds of sellers till they find anything of their choice.
Even if some customers have already bought your products and liked them, there's no way they can connect to your shop again and order unless they remember your Etsy shop URL.
People shop on Etsy just like they shop at the grocery store. They like the products but don't know who produces them. Only if they find some exceptions in the product, they will desperately search for it to buy again when they visit the store next time.
Of course, in such a situation, it is hard to build a loyal customer base, which is an asset required for successful businesses. It's not only hard to make a separate spot for your brand on the website but also to make people aware of your brand and turn them into loyal customers.
Needless to say, this set of pros and cons of selling on Etsy clears everyone's dilemma now! With more cons than pros, it is not a favorable platform to sell your things.
See What Sellers On Etsy Have To Say!
To know apparently whether selling on Etsy is a beneficial option for you, the reviews of its sellers will help. Most of them vented out their frustration or grievances on popular review sites like Sitejabber and Consumer Affairs.
We collected a few of the hundreds of Etsy reviews from sellers to help you understand the problems that sellers faced while operating on the platform.
A seller named Heather on Sitejabber rated Etsy 1-star and wrote "Run away, run away!" He was selling on the platform since 2014. He mentioned Etsy tripled their fees including, shipping, listing, and transaction fees for no reason. And, to add further misery, it compelled the sellers with gross earnings of $10K/year to take part in its advertising program which requires additional fees. In his words "They never let you opt-out, even if you drop below the $10K threshold. Now Etsy makes more off my sale than I do! I'm looking for a new platform!"
Jolie of FL complained on the Consumer Affairs site about the horrible time she had when she refused to accept an unwarranted charge back to her account. Etsy closed her shop suddenly. There were no intimations and all the photos, details, and customer reviews, are lost in the instant moment. Thus, all of her hard work went in vain, and there was no access to her online shop's assets. Warning other sellers of potential trauma, she wrote, "So, when you hear, read, and see goodwill Etsy stories, take a closer look."
You can get loads of such disappointed Etsy reviews for sellers on Trustpilot too. A seller has put 1 star but wrote in the literal sense, "ZERO STARS!! Etsy is a RIP-OFF!!!! 40% fees!" The site takes away no less than 40% for every sale no matter what you sell or how much profit you make. She deliberately cracked the platform's trickery to trap the sellers with doubts about fees. She said the company sends an automatic and generic response that links to a vast document and in no way answers the queries regarding the fees.
Then there was another seller, Sergly who reviewed on Trustpilot regarding the sudden shutting down of her Etsy shop with no valid reason. On being asked, the platform claimed that Sergly has been reselling items. While 90% of sellers in most eCommerce marketplaces are resellers, this could never be a valid reason. Expressing her anger, she wrote, "…What ???!!! Are you Etsy not a reseller? 99% of sellers on Etsy resell items. All online and physical stores – resellers. Manufactories usually don't sell their products." And to our viewpoint, she was correct!
If you are dubious if starting an Etsy shop is worth it for your new business, these real reviews are your answer!
Is It Possible To Grow As a Brand On Etsy?
To build your business as a brand, you simply can't rely on Etsy. This again takes us back to the question of whether selling on Etsy is profitable for any modern business that relies on marketing to expand and grow.
You cannot build a dream lifestyle with all the desired amenities in a rented space. The same thing works for businesses too.
You cannot dream to grow as a brand under the realm of a restricted third-party marketplace like Etsy!
Etsy lends you a space to start your business. In the best words, it is providing a solid ground to lay the foundation of your business. By using it, you can just know how your niche/target market works, what are your customer expectations, what your sales potential is, and so on.
However, there are still success stories like Maeven Vintage and Skin Foodie that have successfully established themselves as brands. It is because they were fully aware of the platform's rules and abided by them at every step.
To become a brand, you need to be different.
While your products may have some USPs (Unique Selling Points) it is hard to communicate them to your target audience without proper promotional/marketing methods. Etsy's limited listing shop does not let you represent or highlight your USPs uniquely.
When our experts further evaluated the reason why Etsy is the wrong option for branding, we found it's also about the liberty that sellers get while selling on their platform. You are not even allowed to set up the layout, colors of the fonts, etc., for the listing of your products, which are essential touch points for branding. This would never be an issue if you are selling your items in your store or any other marketplace.
About Etsy Customer Support: Is It Really Helpful?
Great customer support services add a preeminent success factor for business.
But, does Etsy assure you that can provide excellent support services to your customers?
Not all. In fact, their support services are awful!
Want to know how?
The list of NOs in its customer support segment is more than the YESs!
Phone Support- No
Live Chat- Yes (only in limited regions)
Dedicated Customer Executive- No
Email support- Yes
Direct contact with the buyer- No
Source: liveagent.com
We aren't just assuming all these but stating it after reading through the real reviews of the customers regarding customer support services. There are a huge number of sellers who shared the frustrations they felt when Etsy did not respond to their critical issues.
Check out some of them here!
1. "Horrible to deal with. Stay clear"
December 23rd, 2022
"Had put a lot of effort into making an online store and even making a few sales. After 2 days of being open Etsy closed my store permanently. Reason? I provided them with a bank statement instead of utility bill for address proof. I explained I can get a utility bill but no the decision was already made and I can not get a reply from them. No warning, no reasonable explanation or willingness to help, no explanation as to what happened to the sales. Nothing. Disgraceful behavior from Etsy. Will use another platform instead – my mistake for not checking reviews before!"
Source- sitejabber.com
2. "Etsy cancelled my orders for no reason and has eliminated customer service."
February 23rd, 2023
"I placed numerous orders throughout the day at Etsy as I came across and decided on different species of plant and seed that I wished to purchase. Most of the purchases were for my business. It took almost all day.
At the end of the day, after Paypal had accepted every purchase (because I had verified that I was the one making them) Etsy *cancelled every purchase*. One after another, I got emails that this had been cancelled and that had been cancelled."
"I immediately attempted to contact a customer service rep. There is no longer a phone number to call! Worse, there is no way to chat with a person in this situation!"
Source- sitejabber.com
3. "Hello all – If I could give ZERO stars to Etsy I would!!!"
December 20, 2022
"You cannot speak to LIVE PERSON on the phone. 2. I never received the revenue from the sale that was made. 3. The email was vague and did not tell me what the reason was. 4. Did I mention, that you cannot speak to a LIVE PERSON!!!! I will never ** recommend Etsy to anyone ever again, whether it is buy or sell….. to me they are a SCAM – I want the revenue from my sale and I want to speak to a live person* to discuss the reason why the shop was suspended in the first place – and if the fees were paid (a total of $5) – doesn't that resolve the problem. As big as Amazon is, one can still speak to a live representative if you call them!!! This is ridiculous. Etsy should be ashamed of themselves for treating their merchants so poorly!!!!"
Source – consumeraffairs.com
4. "Horrible experience with support team"
Mar 8, 2023
"I've been trying to buy a digital item since a month now, the seller keeps canceling my order and I couldn't make my order even when using another account. Finally, when reaching out to support team, they promised to look at the seller account, but it's been already 18 days and still no response from them!! Such an awful experience!!!"
Source- trustpilot.com
The absence of standard customer support is a major problem in online selling when both buyers and sellers need immediate response through a proper executive, either on the phone or chat.
Etsy offers none! There's no way the sellers could instantly get a resolution whenever they stumble upon a serious issue like the closing of an account or an order fulfillment failure.
Estimation Of Selling Cost On Etsy
Before we answer if selling on Etsy is profitable, we must look at the fees charged by the platform to its sellers. That will give you a proper estimation of the selling costs and help you determine your profit margins.
While thankfully, this online selling platform does not charge any registration fees, there are two primary fees, including listing fees and transaction fees. Both of these are charged every time you put an item for sale.
Listing fees: For every new item you list, Etsy puts a charge of $0.20. Thus, for every saleable item, this amount is deducted and the listing will remain active for 4 months or until it is sold. Naturally, it means the more you want to sell, the more you have to give to Etsy.
Transaction fees: Every time someone orders an item and you make a sale, Etsy cuts 5% of the product price as you have listed. This again means higher the price, the greater amount you give to the platform.
Here's a simple example to explain how much you give away as the selling cost to Etsy. For any item sold at $100, it deducts 6.5% i.e., $6.5 as the transaction fees. A total of $5.20 is deducted from your listing price.
But, wait. That's not all. Etsy also put other charges like payment processing fee which is 3% of the cost of the order + $0.25.
And, if you want to make a sale through Etys's offsite ads placements, then you have to pay some extra amount further, i.e. 15% offsite ads fee. Well, this cost is still fair because the platform is advertising your products and helping you may make enough sales that you couldn't have made otherwise.
Apparently, on the whole, you are giving away 8 to 23% of your total revenue to the selling platform. That's a huge cut on your profit.
Does all the Etsy fees worth it?
We consider it's not, since none of the other marketplaces charge so much on sellers deducting a lot from their incomes.
Thoughts Of Artists/Crafters About Etsy Selling Fees:
From the basic costs to off-site advertisement fees, everything is a bit high on Etsy, which annoys the artists or crafters who start on a small scale. Most of them struggle to sell more in the initial stages, and with lots of additional charges, they earn marginally.
That has a significant impact on their growth. With minimal profits, scaling, diversifying, or upgrading the products is impossible. Hence, the artists or crafters are stuck until they move out to other cost-friendly marketplaces or invest all of their savings into venturing into Etsy (with its ads and offline marketing).
Etsy recently made modifications to its shipping costs. They allow a free shipping guarantee for product purchases of more than $35. That is a direct blow to sellers with higher-priced products. No matter how far the distance is and how much delivery costs they bear, they can charge nothing from the shoppers due to Etsy's "free shipping" obligation.
Sounds like Etsy is bad, isn't?
Here are some of the words of annoyed sellers about the platform.
1. "They steal from sellers. Example I should not be paying shipping when my customers are paying me for that. I am missing over 100 dollars just for shipping and their math is horribly off. They rob you as a seller And as a customer. Don't waste your money unless you know the store is legit. Request physical personal pictures from the seller and then do a reverse search on the picture. If a person is legit they have no issues getting you proof of the products they sell."
Source- consumeraffairs.com
2. "I woke up to an email this morning from Etsy indicating that they were making an 'adjustment' to a shipping label for an order I shipped out more than 2 weeks ago. They said they were deducting nearly another $4.00 from my account for this label. I was livid! I shipped an item that weighed 3.3 ounces, First Class and in an envelope, just as I've done for hundreds of similar orders like it. I actually entered the weight as 5 ounces (rounding it off), as I do with all orders I ship to avoid this type of thing. In my account they indicate that I shipped the item Priority mail and that's why they are taking money from me. They are WRONG.…….."
Source- consumeraffairs.com
Moreover, Etsy charges or make changes to their existing charges suddenly which frustrates the sellers more.
With so many challenges, including additional charges, small-scale sellers of handmade items and arts are left with one thought- is selling on Etsy beneficial?
Fed up with Etsy's unnecessary conditions, many crafty entrepreneurs moved out to better marketplaces that not only charged lower prices but also exposed them to a larger audience.
If you too have a handcraft business in mind and are dubious if selling on Etsy is rewarding for you, then consider these better alternatives to sell your stuff.
1. eBay
It is one of the eCommerce giants that can be a suitable alternative to Etsy because it never charges its sellers abruptly. It's easy to start an account (either an individual or business account) and start selling.
There are typically two types of fees on eBay. One is the insertion fee that is charged after you have sold your first 250 items per month. Apart from that, there are also value fees that are charged in tiers. For instance, you got to pay 15% on the initial $1,000 of sale, 6.5% on the sale between $1,000 and $7,500, and 3% on the remaining sale value plus 30 cents.
With all these, there are subscription fees that eBay charges monthly and annual basis depending on the plan.
2. Amazon Handmade
Yes, it's a part of Amazon, the globally ruling eCommerce platform today. It has started the 'Amazon Handmade' that only prioritizes the selling of art and handcrafted items. To expose diverse types of artisans to millions of sellers, Amazon Handmade was launched.
In a true sense, this platform is a cost-effective way for sellers to start earning. There is no listing fee. They do not charge for the first month. From the next month, they charge $39.99/month as a selling or subscription fee. Apart from that, Amazon takes away 15% of every sale.
3. eCarter
This has grown as a popular marketplace today where sellers can register for free. An advantage of this store is that sellers can create customized stores to stand out from the rest.
However, the biggest plus point of eCarter is that it lets you take home 100% of your sales and pay a minimum of 2.9% fee when the platform itself brings a sale for you through its central marketplace.
Our Main Street Market & Gifts is another prominent and economical marketplace for you that assures no extra charges and conditions on the sale. It's not just convenient in every way but also provides you with all the benefits of an online marketplace.
User registration is quick and hassle-free! You can just start selling at any moment if you have a handful of handcrafted items. We provide abundant wholesale merchandise opportunities that will help you grow slowly and steadily. Our fee structure is also convenient, which ensures that you get maximum earnings in your bucket.
5. Shopify
If you want a place that is more than just a marketplace, then it's Shopify. You can create your online store, have a domain, and have a customized website. In short, it provides all types of resources that eCommerce entrepreneurs need to scale and grow their businesses.
Shopify also charges minimally! It takes a minimum of 0.5% to 2% of your sales, depending on the orders. Also, Shopify charges the sellers on monthly basis, which starts from $29/month and is $299 for an Advanced account.
How Much Profitable It Is To Sell On Etsy?
It's evident from the selling on Etsy pros and cons that you are going to face more hurdles than benefits. If you are a new seller and wondering in your head whether selling on Etsy is profitable, it's better to evaluate certain factors that directly affect the profits of the sellers.
Here are they.
1. Listing fees
Etsy has a minimal listing fee i.e., $0.20 but it is for every item.
So, if you have ever thought if selling on Etsy is free, then here's your answer. It's not! While all the alternative marketplaces do not charge at all or charge it after allowing some free listings, this condition makes Etsy an undesirable platform for many.
The listing fee is only applicable for 4 months. If your product is not sold, you have to renew the listing with $0.20 again. This type of recurring listing fee isn't a reliable option for sellers who are not sure of their sales.
2. Free shipping guarantee
Etsy brings additional trouble for the seller in the form of a 'free shipping guarantee'. It intentionally wants the seller to offer free shipping when the total purchase of $35 or more.
While it is a great option for sellers who want to make more money, small-scale sellers offering items locally can be at a loss when they have to ship products at a far distance.
3. Brand development
While selling items on any online marketplace, one has to be distinct or creative while listing the items. The first step to making sales and earning profits is to promote your products to make them reach a wider audience.
Etsy is not the place to promote your products boldly or attractively. Apart from creating a store name and putting unique product descriptions, there's hardly anything more that you can do to promote your new business, multiply sales faster, and grow profitability.
4. Search Engine Optimization (SEO)
Etsy has its search engine which makes it essential for sellers to list their items with appropriately researched keywords. On its search engine, every search is based on two vital factors i.e., ranking and relevant query. Hence, it makes it a prerequisite for sellers to understand Etsy SEO practices to rank their shops and become profitable.
If you ask how much the average Etsy seller makes, it is hard to estimate with so many fees involved. Even worse, you cannot assure to make enough sales by getting your products readily discoverable on the Etsy platform.
So, if you are planning to sell your stuff on this platform, give it a thought!
What Are The Transaction Fees?
Transaction fees are what sellers have to pay for selling their items. Etsy charges a hefty 6.5% of the listed price of the products as transaction fees and the charges for shipping and wrapping.
Earlier it was 5% but the company raised it to 6.5% in April 2022 with the urge to earn more. But, that's a 30% increase in the transaction fee, which was a significant change.
Apart from transaction fees, there are many other fees that sellers have to pay for selling on the platform.
Listing fees
Payment Processing fees
Delivery fees
Currency Conversion fees
Free shipping charges
Etsy Ads fees
Offsite Ads fees
Subscription fees
In-person selling fees
Regulatory operating fees
So, that's a lot for a small-scale business owner!
Are There Taxes On Etsy?
Etsy charges sales tax in some cases only. It collects and transfers on the behalf of the sellers.
Taxes did not exist previously. But, when the States introduced marketplace facilitator laws in 2017, it became necessary for sellers to pay taxes once they meet the sales tax threshold.
However, sales tax payment is not applicable for every state now. Thus, Etsy takes into account the location of the seller before charging the tax.
Things Sellers On Etsy Should Know
Alright if you are a new seller who still believes selling on Etsy is beneficial to start your business, we can explain. Running your startup business is not going to turn fruitful.
These facts will tell you whether offering items on Etsy is worth it or not.
Difficulty in setting a cost structure: With so many fees and additional charges involved, it is challenging for any Etsy seller to determine the costs of shipping, packaging costs, and appropriate prices for the products.
Search optimization: With so many sellers offering items in the same niche, it's really painful to research and find the right keywords that very well help your audience to find your products.
Price downward spiral: Very few sellers are certainly aware of the 'price downward spiral', which occurs due to competition. With too many sellers selling items in the same marketplace without any major differentiation in their listings, it's difficult altogether for them to compete. The only way they compete is by dropping their prices. Thus, beware of what happens in your niche before venturing out. It shouldn't happen that you have to offer a competitive that is too low to make profits!
No control: Etsy keeps changing its selling terms and conditions, fees, policies, etc. over which you will have no control ever as a seller. Even, you don't have the power to decide how to list your products. The features and layout of your shop will be up to them.
Lack of trustworthiness: You can even get scammed on Etsy as a seller because it has many shady fees, charges suddenly without any prior announcements, hold up the money of sellers, randomly blacklist or block sellers, and do not ever provide a refund. After all, these, does it still look like a site worthy of selling your valuable handmade items? We contemplate it's not!
Thus, if you are convinced by the true success stories of a few Etsy sellers in the past, restrain yourself from going that way because these hurdles are going to linger.
When You Should Switch From Etsy to Any Alternative?
If you are an Etsy seller and consistently troubled by its inconsiderate fees, excessive regulations, and nonresponsive help/support services, it's time to switch to a better alternative.
But, hold on!
Let us give you some more compelling business-driven reasons to make the move.
Achieve complete control of your store: Most sellers question the worthiness of selling on Etsy because of its restrictions and obligations. There are many downsides like you have no control over your store's design, branding, customer support services, and even profits. Moreover, the algorithms and regulations of the platform keep changing, which exposes you to abrupt charges and hence losses.
Increase your sales channel: Etsy is just one of the hundreds of marketplaces and a sales channel for your products. It does not allow you to easily rank in Google and other search engines except its own. Thus, you can lose out on great sales potential by being available only on Etsy. So, it would be great if you set up your store and expand your sales channel. By being available on multiple marketplaces, increase your chances to become more visible on Google search results page and drive conversions and sales.
Grow a loyal customer base: With Etsy's limited customer base, it's not possible to grow a vast and loyal customer base. Besides, their customer base may not include your target audience.
For instance, the seller may come up with a unique product and the price might be reasonable. But, unfortunately, Etsy's customers are not familiar with the product or do not need it.
Besides, shoppers on Etsy are never used to spending more. Hence, it's hard for you to get buyers, has increased conversions, and raise your ranking on the platform's search results.
Doubtful Whether Selling on Etsy Is Worthy? Sell On Main Street Market & Gifts!
Do you still think Etsy is a beneficial marketplace for your carefully crafted items?
If you're considering selling handmade products, opening an Etsy shop can be a good place to start. Etsy is a popular online marketplace that caters to small businesses and artisans looking to showcase their unique products. With relatively low listing fees and a user-friendly platform, setting up your Etsy shop and creating attractive product listings with engaging descriptions is relatively easy. However, it's important to consider the various fees associated with selling on Etsy, including transaction fees and offsite ads. Additionally, offering free shipping can attract customers and improve your search results within the platform. Implementing effective marketing strategies to reach your target audience and build a loyal customer base is crucial for success in the competitive online business landscape. While shipping costs should be factored into your pricing, Etsy provides tools to help calculate accurate shipping rates. As a new seller, putting effort into optimizing your listings, targeting the right audience, and providing excellent customer service can lead to increased sales and visibility on the platform. Ultimately, with a well-executed strategy and quality products, Etsy can be a valuable e-commerce marketplace for small businesses to thrive and connect with customers worldwide.
In a nutshell, it can be a convenient place for some sellers because of the easy listing procedure and ready access to a customer base. However, in the long run, is selling on Etsy worth it when then are many better opportunities?
If just selling a handful of items seasonally is not your motto and you are looking forward to making substantial profits with a stable online business, Etsy is not your place.
You can make a terrific start for your online business with Main Street Market & Gifts. We are growing as a wholesale marketplace for every popular niche, from retail to accessories and home décor, including handmade items. We ensure to make listing and selling hassle-free for the sellers, regardless of the quantity, price, and distance for delivery. Fast and secure delivery, a 24-hour return policy, and a 100% guarantee on the products are our USPs.
At Main Street Market & Gifts, we assure you can sell, resell, scale, diversify and grow your business as a brand in your way.
Frequently Asked Questions
1. Why isn't Etsy working?
There is not one but multiple reasons that make sellers doubt if starting an Etsy shop is worth it. Sudden hikes in fees, a limited customer base, similar types of shops, poor customer services, lack of search optimization, and too much competition are some of the primary reasons Etsy isn't working well these days.
2. What to know about selling on Etsy?
To sell on Etsy profitably, here are a few things that you need to keep in mind.
3. How to get registered and list items on Etsy?
Identifying whether your products are a popular niche and have customers on Etsy.
Determining the right name for your shop.
Knowing how to research and select the right keywords for your shop.
Writing a creative and eye-catchy description.
Knowing the fee structure (listing fees, transaction fees, payment processing fees, free shipping fees, etc.)
4. How much does the average Etsy seller make?
We know you have this question on your mind after going through all the cons of the platform, especially the higher fees. The average income of Etsy sellers is around $40,000- $45,000 a year, according to Sale Samurai. This is just based on the earnings made by sellers in recent years.
However, this is true only if the product has high-profit margins. Since there are many other overhead costs, retaining a higher profit is hard for sellers.
5. Who pays for shipping on Etsy?
The buyers pay for shipping on Etsy. However, the platform now urges sellers with an order value of $35 or more to offer free shipping.
6. Can you get scammed on Etsy as a seller?
Etsy is a legitimate marketplace, helping many small-scale entrepreneurs to sell their homemade products. So, if you are worried about whether selling on Etsy is safe, then it isn't anymore. Its unresponsive customer support service, and irresponsible behavior like sudden suspension of accounts, arbitrary charges, etc. make its legitimacy as an eCommerce marketplace doubtful.
7. Is selling furniture on Etsy worth it?
Yes. Etsy is a good place for selling furniture if they are handmade. However, if you are planning to sell your furniture, remember that you have to take responsibility for its packaging and shipping.
8. Is selling things on Etsy worth it?
After assessing all the drawbacks of the platform, we consider selling on Etsy is only beneficial only for handmade items with higher profit margins.
9. Is selling art on Etsy worth it?
Etsy is no doubt the best place for handmade products including art items. It is the appropriate marketplace for businesses with small numbers of homemade products to sell.
10. Is it worth it for artists to sell on Etsy?
It's worthwhile for artists to sell on Etsy when it's creating paintings and artifacts. It is convenient for sellers that do not want to scale up soon or are not really for business. Etsy is, in fact, an ideal marketplace for artists who want to make some extra cash.