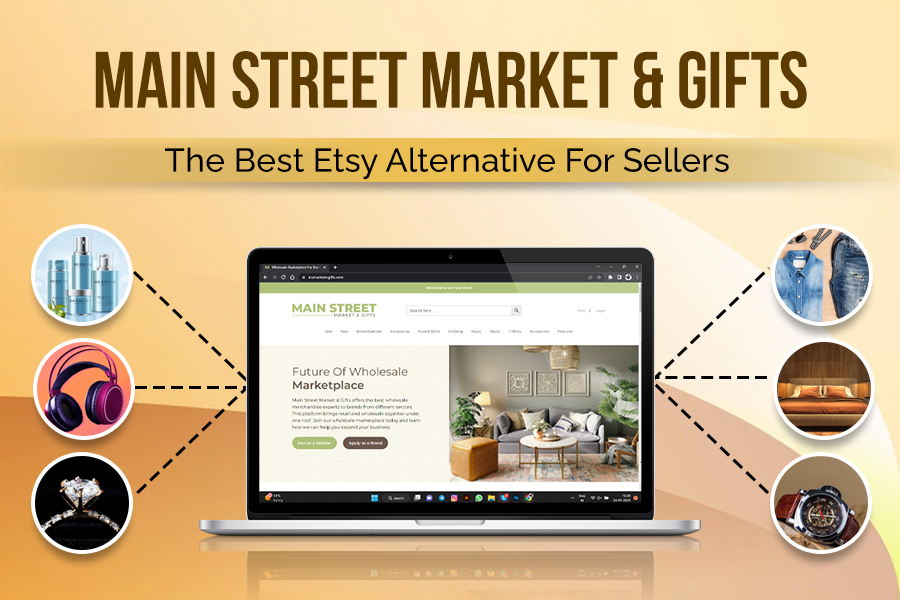 Etsy has long been a go-to platform for sellers looking to showcase and sell their handmade, vintage, and unique items. However, with the rise of online marketplaces, there are now several Etsy alternatives available for sellers to explore. These alternatives provide sellers with the opportunity to sell their products on different platforms, each with their unique features and benefits.
One of the biggest reasons that sellers seek out alternatives to Etsy is to reduce fees. Etsy's fees can be quite steep, with sellers paying a commission on both sales and shipping costs, in addition to listing and advertising fees. Some alternative platforms offer lower fees, which can help sellers keep more of their profits.
The worth of selling on Etsy in 2023 depends on various factors. For creative entrepreneurs who specialize in handmade or vintage items, as well as digital products, Etsy can be a viable platform to showcase their goods and reach a broad audience.
Another reason that sellers may look for alternatives to Etsy is to find a platform that offers more customization options. Etsy has strict guidelines on what sellers can and cannot sell, and the platform can be restrictive in terms of how sellers can brand and market their products. Other platforms may offer more freedom in terms of branding and customization, allowing sellers to create a unique and distinct brand.
Finally, some sellers may simply be looking for a change of pace. While Etsy is undoubtedly a popular platform, it may not be the best fit for everyone. Exploring different platforms can give sellers the opportunity to try out different features and functionalities and find the platform that best suits their needs.
In this article, we'll explore the best Etsy alternatives for sellers. We'll discuss the features and benefits of each platform, as well as any fees or restrictions that sellers should be aware of. Whether you're a new seller looking for your first platform or an experienced seller looking to expand your reach, this guide will help you find the best alternative to Etsy for your needs.
Why Is Main Street Marketplace & Gifts Is The Best Etsy Alternative
Finding the best platform can feel daunting and messy. If you have thought of selling your products on an online platform, nothing could be better than the MS marketplace. It is the finest Etsy alternative for any seller. While Etsy may feel good for various reasons, there are some things that you may want to consider before registering your business with them. To give you a wider perspective and a better understanding of everything here we list down why MS marketplace can be a good alternative to Etsy-
You can choose MS marketplace, a free Etsy alternative because they're fewer to no charges for most of the processes in comparison to Etsy. Sellers can list their products for free on this platform.
MS Market and Gifts sell authentic and verified products from verified sellers, helping people get the right product. At MS marketplace, there is a careful verification process, leaving no room for error.
Sellers can have control over their products with MS marketplace, unlike Etsy which does not give any control to the seller. Expect freedom, flexibility, and support from the MS marketplace.
In the MS marketplace, there are no recurring listing fees for sellers. This is a huge plus point for sellers as they get to expand their business and have better revenue.
Recently, Etsy has been under the radar because of its shipping policy making it unreliable for sellers and customers. Therefore, many have started to find alternatives, and one would be the MS marketplace. You can trust the platform with your business.
Businesses want to have swift customization of their storefront. Etsy has a time-consuming process in this sphere, whereas MS marketplace caters to a fast customization process.
Some have criticized Etsy for its poor algorithm. This is not the case with the Etsy alternative. Expect a good algorithm for better sales and customer experience.
MS marketplace sells a variety of products and is not limited to handmade ones. This gives space for many businesses to start their vivacious online journey.
The user interface of the MS marketplace platform supersedes the one of Etsy. Because of the perfect UI, such a platform can retain consumers, boost brand image, improves navigation and browsing time, increase conversion rate, and provides the best experience on all devices (for both sellers and buyers) swiftly.
The dropshipping facility is something to look out for. It is one of the finest features of the MS marketplace.
These points will help you understand whether the MS marketplace is a suitable platform for you or not. MS marketplace has brands coming from all over the world. If you are looking for sites better than Etsy, MS Market and Gifts is the answer.
Why are Small business owners looking for Other Options Besides Etsy?
When people start their business, it is small and yet to have its own experiences. Small businesses often need outside help to run successfully. While some get great assistance, many need sublime solutions. Etsy was once considered a great place to start a business. But recently, it has faced some criticism for many reasons. Two of the primary reasons are-
Strict standards
Forced rulebook
These reasons have caused disappointment in some sellers and alienated many well-known ones. For example, the platform has recently revealed its intentions to switch to the "offsite advertisements" business model. Vendors will now be required to pay up to 15% in mandated advertising costs for each consumer click on platforms like Google, Facebook, and Instagram.
Numerous Etsy alternatives have been sought as a result of other exorbitant prices and drastic changes that have made the worldwide marketplace the target of Internet ire. Therefore, dissatisfied sellers searching for a new home or those hoping to start a new business in a more welcoming business climate may want to think about some excellent Etsy alternatives.
What Are The Benefits Of Selling On The MS Marketplace?
You may find several platforms to sell your items. In today's competitive world, entrepreneurs should have a reliable and organized platform to make profits and reach a wide audience. While there is Etsy for you, you can try something different like MS marketplace.
1. Variety
As humans, we tend to look for different things in life. We need to experiment and try new things. For this reason, look forward to a variety of products in the MS marketplace. Retailers and wholesalers have the opportunity to sell anything- from home décor, music, and footwear to accessory gifts, food and drinks, and clothing. As a seller, be assured to get the most out of this platform. You can expect to have a thriving business as a retailer or a brand. Customers can count on MS Marketplace to have reliable sellers for anything they like.
2. Fast & Secure Delivery
Through this platform, quick and secure shipping information is delivered. There is a guarantee that your package will arrive at its destination. The greater the likelihood that a buyer will buy your goods, the quicker you can provide it to them. According to several surveys, a sizable majority of customers demand free delivery, and if customers don't get it, they will tend to stay away from the company or its products.
You may have better control over your package delivery with the help of these fantastic services, which will increase the productivity of your company. MS marketplace offers quick delivery, making it a great platform for both merchants and distributors.
3. 100% Guarantee On Product
The MS marketplace supports several wholesale and retail stores. However, also keeps in mind that there is a proper verification process to join the platform. The products sold on the MS marketplace are similar to sites like Etsy. But what makes us different is the verification process of the store and the products. Only the finest stores or entrepreneurs join the platform, promising a 100% guarantee for all products.
MS marketplace pre-screens every item so that customers don't fall for fake products or any other malice. For these reasons, everyone can have a safe business on MS marketplace, the other shop like Etsy.
4. 24-Hour Return Policy
There can be times when certain products are not up to the standards. MS market and Gifts makes it a point to give their clients a 24-hour return policy. Depending on the stores and brands, the return policy is within 24 hours. One would benefit from a complete refund on the product. This applies to all the products that come your way. It will be verified once customers apply for a return. The process is simple and smooth. You just have to tap a few buttons and the request should be approved and processed within seconds.
5. Seller Friendly Platform
A site like Etsy may have its name for many reasons; MS marketplace has its own charm. For sellers, it is an ideal Etsy alternative. With unique items on the platform, it becomes one of the best places to do business. Sellers can sign up for free and sell their products easily. Buyers then browse and filter through the variety of items. Place the order and make a transaction within minutes to get it delivered quickly.
For buyers, there is an added advantage to writing and rating the reviews as well. This is the spot for you if your business aligns with MS Market and Gifts' objective to provide customers with antique, handcrafted and unique things. This platform can be the best alternative to Etsy. Therefore, as a seller, do your homework to understand what is already available to find your niche and differentiate your store from others. It will assist you in attracting customers who already invest a lot of time (plus money) just on a website.
6. Growth Opportunities
Every business looks for growth opportunities whenever possible. MS marketplace, like Etsy, gives you strong opportunities to grow. If you are someone who has a dream to expand their business, this platform has the potential to make your dreams come true. With MS marketplace, take your business to next level. The growth may be in context to having a wider audience base through this platform.
If sellers start expanding, there will be greater chances of profits and customer loyalty. Hence, MS Market and Gifts is a great place to start your business. It has top-notch services to handle any problems from the customers' end to the buyers' end.
How To Start Selling On MS Marketplace?
Platforms similar to Etsy like MS marketplace a unique online store for unique things, antique goods, and craft materials. There is a network of creators, owners of small businesses, sellers, and buyers who all have a love for unique and rare items.
Make sure the items can be distributed on the MS marketplace and that you are in a zone where marketing on such a site is permitted before you open your shop. To be sure that selling on MS Market and Gifts is a good fit for you and your company, examine the seller guidelines and discover the costs associated with doing so. Examine everything carefully.
1. Review what you can sell
You should know that there are many items that some platforms cannot sell. There are restrictions and laws. Even if your goods are homemade, antique, or craft materials, if they fall under a restricted category, you might not be permitted to sell them on the MS marketplace.
Before listing things, make sure you have read and understood our policies. Drugs and drug paraphernalia, cigarettes, firearms, dangerous substances, and other items are prohibited. Items that make use of another person's intellectual property are also prohibited, even if you developed or made the item. Additionally, you must abide by regional legislation. Some items might not be able to be transported or sold in your region.
2. Create a shop
Make an MS marketplace account or sign in before starting your shop. With the use of this account, you'll manage your store and make purchases from other producers. Create an account, then fill out your bio and profile photo to introduce yourself to the community.
To create your shop on MS marketplace-
Know about the business license, preferences, name, and stock amount beforehand.
Open a shop in the platform by visiting,Main street marketplace & Gifts and select from the two options- apply as a brand or join as a retailer.
If you join as a retailer, give your full name, email ID, and password and submit that application.
If you choose "apply as a brand", there will be a form where you will be asked to give your full name, company email address, your position or title in the company, brand name, brand website, Instagram username, Facebook page, number of stores your products are in, primary category, brand location (which country), what country do the products ship from, and average lead time. Submit the form and wait for a response.
You have to finish the first step of starting the shop on a web browser from your desktop.
3. Setting up payment and billing details
You have to connect the bank account with the MS marketplace shop. You may find different options to set up a bank account. Read them thoroughly and set up the account. Make sure it complies with the country's law.
4. Set-up a storefront
Following your registration to trade on the MS marketplace, there are several steps you must do to finish setting up your shop and get ready to begin accepting orders. You should consider important aspects of your selling procedure, just like you would with any internet business. Think about topics like your shipping strategy, policies, and manufacturing schedule. Various other factors go into it and therefore think about it carefully before processing to the next step.
5. Start listing to the shop
Once you have given all the information for your shop, you can start adding products to MS Market and Gifts. Whenever you add a product on MS marketplace, a site like Etsy but better, we call it a "listing". When you start listing, remember to follow the best practices of listing items such as using high-quality photos, using proper tags and titles, adding attributes, describing the item, and setting the right processing time. You can consider the best shipping prices or free shipping for the products for a better sale.
6. Promotion, marketing, and branding
For your shop at MS marketplace, the other platform like Etsy, make sure extensive promotions are done. Your shop's success depends on your meticulous marketing plan. Marketing may result in an increase in sales overall by making your items easier to locate for new consumers, keeping current customers informed about what's new with your store, and more. You, as a seller, can use social media and SEO help. Look into stats and analytics to improve your marketing domain.
7. Start selling
Now that you have set up your shop at MS marketplace, a competitor to Etsy, let there be a new start to online buying and selling. Make sure you have variations in your products with simple yet charming descriptions. Let this be a fine experience for both the buyers and the sellers on this platform. If your shop provides excellent and consistent customer service via the MS marketplace, there will be great success awaiting you.
With these steps, you can have a wonderful business in the MS marketplace. If you fear any confusion, it's better to ask a professional for help or a person who has their business on such platforms.
Tips For Success On The Main Street Marketplace
Many of us want to start a business on a high note and positive attitude. However, sometimes things may get out of control owing to different things that come with setting up a business.
Your internet business may seem like your first trip abroad as you have to acquire new ideas, tactics, and terminology. It might be beneficial to plan ahead and have a general understanding of how things operate before you start your stint on Etsy. We have some advice for you if you're new to online selling or hope to have your own store on the MS marketplace eventually. They are entertaining and practical. Read on!
1. Choose an out-of-the-box name
At the very first stage of setting up their store, and choosing a name, new vendors frequently make mistakes. Don't let the fact that the shop name you've been pining for isn't an option stop you from opening your business, even if it might be heartbreaking. If you find yourself in this situation, consider finishing your preferred name with the words "shop" or "boutique," your location, or even just your initials. Also, keep in mind that you have other opportunities to choose the ideal name. Before opening your store, you are free to alter your name as frequently as you wish.
2. The number game
Like Etsy, the more products you sell, the more probable it is that one of them may appear in a customer's search results. However, there's more! When potential buyers like your offerings, they'll always see at least one of them on MS Market and Gifts homepage when they go to the website. Additionally, whenever you add a fresh product to your company, that product will also appear on the site of the client. The greatest (and free!) strategy to remain on your customers' radar is to offer new things often. Adding new merchandise helps increase sales by keeping people returning to your shop.
Post a minimum of 20 listings in your shop to get started with some great MS marketplace ideas. You can then gradually increase the number of items. Aim for 30 then increase it to 50, 80, or 100 products. This will be a foolproof plan to gain success in the Etsy alternative for sellers.
3. The cross-sell and upsell tactic
Did you know that it costs 10 to 25 times extra to get a new client than it does to maintain an existing one? Increased sales to current clients are the most effective approach to enhance profitability. You can try the upsell tactic, by presenting them with more expensive alternatives or add-ons. Additionally, you may also cross-sell by suggesting goods that go well with the item customers just added to the cart. With tailored suggestions, you may upsell or cross-sell products to raise the average value of orders by up to 10%.
There are various ways to increase the order value, there can be suggestions to buy multiples of the item. For instance, offering a phone cover, charger, or holder rather than just buying a phone.
4. Promotions and offers
There are several strategies to draw attention to special deals and increase sales, including providing coupons, conducting specials, holding giveaways or contests, and starting a partnership with other businesses in the Etsy alternative platform. You may use these marketing strategies to tempt potential consumers, influence lapsed clientele to visit your shop again, or reward loyal consumers so that they make bigger purchases. For instance, giving Instagram followers discount vouchers to increase traffic to their websites.
Other suggestions include:
Planning promotional events in advance to develop effective marketing initiatives
Making the most of seasonal or holiday trends
Making use of MS marketplace-wide sales occasions
Make a calendar of special offers to assist you in planning the year and implementing your marketing plan.
Consistently review data following each campaign to ascertain what is effective, then use those insights to better strategy and future advertising.
5. Find a way through SEO
Did you know that there are 68% of online shopping starts with research? Because of this, you can premium prospects via SEO or search engine optimization methods. To have a high rank on applicable results of the search engine, optimize the shop listing with an efficient SEO plan. It should cover all bases- from renewing the listing, and building inbound links to using appropriate keywords. You, as a seller, have to dial the right aspects to attract as many customers as possible for purchases.
You can begin to lay a sturdy SEO base by identifying your potential clients. Examine the data for MS marketplace, an Etsy alternative for buyers, to see what individuals are searching for and the keywords they employ. To attract high-quality visitors, include these search phrases in your listings. Additionally, make sure to offer excellent customer service. Shops with a track record of providing excellent customer service and remaining compliant with MS marketplace's standards are much more likely to appear high in search outcomes.
6. Social media
Did you know that almost one million individuals log into Meta and 3 million individuals scroll on Instagram each minute? Social media has a lot of power. Thanks to the increasing digital revolution, making an impact of any kind in the world has become quite easy.
You can influence, promote, rant, or sell products on via or on social media amazingly. For instance, Buried Diamond's Martha Porter got more than 50,000 followers on Instagram just by sharing artistic product announcements along with the content of her brand with a stunning image. Platforms similar to Etsy have the power to create a change through social media strategies. Take help from digital marketing professionals if you don't have much understanding of the social media process.
7. Build visibility by attending events
There are several events held online and offline where you can endorse your shop that is on the MS marketplace. To decide what you should concentrate on, do some local and internet research to find out what programs your target consumers are attending. Prepare in advance so you have enough time to install the technology for virtual events or to identify the ideal location for in-person ones. Encourage your fans to invite friends by promoting your event via social media and email. These are incredible possibilities to build connections with both present and prospective clients.
8. Stay on the subscriber list radar
How many times have you noticed the subscriber button on someone's page or channel? It is a great way to connect with customers. You may reach out to your customers and clients by email (or even postal mail!) with promotions, newsletters, and pertinent material when you have a subscriber list.
This aids in connection building, brand awareness, retaining existing clients, sharing new product listings, and boosting conversion rates. As an example, the owner of Zenned Out Jewelry, Cassie Uhl, perfectly used email marketing. This fostered trust among followers and increased traffic to her shop, leading to high sales.
9. Supporting a worthy cause for better connection
Cause marketing may aid you in widening brand awareness. It can enhance brand insight, and create approving press. Customers want to support companies that support a cause. For instance, 79% of Americans think they have a stronger bond with businesses that share their beliefs, and 70% of millennials say they will increase their spending with firms that support causes. Pick a cause that complements your brand's image and product line. This will grab more attention towards your shop. Such a selling website like Etsy can do wonders if the cause is correct.
10. Keywords, the Key to Success
Playing with words is an important part of selling your product. When you use the right words, whether written or spoken, it creates a huge impact on people. That's why, when people purchase on the MS marketplace, they typically start their search by putting phrases and words into the search field because of a certain mindset. To decide which of these evocative keywords your potential buyers would most likely use to locate your things, sellers must think like customers.
Start by coming up with terms or phrases that buyers could use to search for your products to make the most out of your keywords. Make a long list of potential outcomes and circle the most promising ones.
Start Selling Today on The Best Free Etsy Alternative Platform
Every entrepreneur wants to fly high once they start a business of their own. It is an aggressively competitive world and you need to have all the right tools to climb up the ladder. There may be several options to start with but MS marketplace is the one that could change the game. It is a free Etsy alternative with top-notch services.
Whether you want to sell accessories, food, clothing, or home décor items, MS Marketing is a valuable Etsy alternative. You will have guaranteed profits and a flourishing business in the future. So don't wait anymore and jump on this wagon soon!
Frequently Asked Questions
1. What's the best alternative to Etsy?
In a world where people need quality products and on time, the MS marketplace plays a huge role in it. Of course, it's a competitive world out there and there are so many choices. But when it comes to cost-effective products, variety, and free platforms, none can beat the MS marketplace. You can have blind faith with such a platform as Etsy but free of charge.
2. What is the best B2B e-commerce platform?
You may have come across many names the best B2B e-commerce platform is MS marketplace. The B2B space now offered by MS Marketplace functions as a wholesale trade agency, acting as a middleman for vendors and retailers. Trust with such an Etsy alternative to change our life.
3. Which e-commerce platform is best for dropshipping?
Simply put, the MS marketplace serves as the finest and most trustworthy platform for dropshipping. Customers can order their products anytime and anywhere without having to wait for the stock to refill.
4. Can I sell my handmade goods online for free?
MS marketplace is like Etsy but free in a certain aspect. Sellers have the option to list their products on the MS marketplace for free. This makes it an affordable place to do business, even if it is for handmade goods online. Therefore, yes, you can sell your handmade goods for free online. It is the best one for you
5. How do I choose the best e-commerce hosting services?
When you have selling sites like Etsy and MS marketplace, you have to consider a few things to know which has a better hosting service. Choosing a good hosting platform is important because of the downtime, slow websites, vulnerable websites, etc. Some things to consider are- reliability, technical support, hosting cost, high performance, file storage, bandwidth, and more.